SIGN UP NOW FOR FREE


Discover Forex, Stocks and Crypto trading signals with 79% to 89% accuracy
If you want to receive trading signals - like these in real time - register on the platform and buy the Pro version of LargeTrader.
Trading Signal The Graph - GRT
Altcoin Price Signals and Analysis
Good Evening Traders,
almost at the close of February 14, a Lift-Off trading signal is forming, LONG on the altcoin The Graph (GRTUSDT)
GRT against USDT at the moment stands at USDT 0.1674, marking a +13.49%.
After the news on U.S. inflation, down slightly from the previous reading, but not as expected, the market shook, only to find the bullish direction.
BTC followed the traditional U.S. index market, dragging the entire altcoin market.
It is currently ranked 40th in the classic by capitalization.
Below The Graph with the signal detected by Lift-Off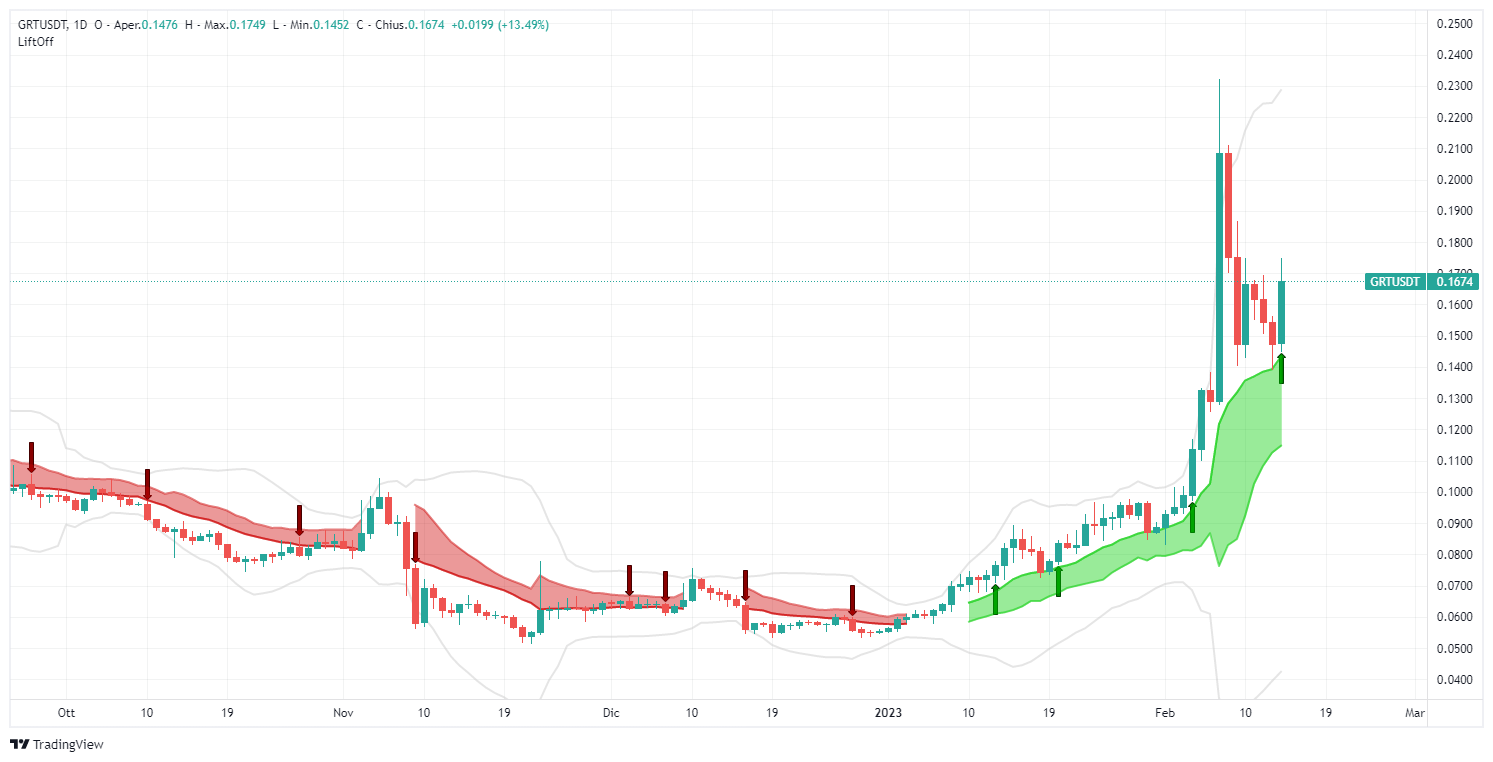 Two words about The Graph project:
[...]The Graph is an indexing protocol for requesting data for networks such as Ethereum and IPFS, which powers many applications both in DeFi and in the broader Web3 ecosystem. Anyone can create and publish open APIs, called subgraphs, that applications can query using GraphQL to retrieve blockchain data. There is a production-hosted service that makes it easy for developers to start building on The Graph, and the decentralized network will launch later this year. The Graph currently supports data indexing from Ethereum, IPFS, and POA, with more networks on the way.
To date, more than 3,000 subgraphs have been deployed by thousands of developers, for DApps such as Uniswap, Synthetix, Aragon, AAVE, Gnosis, Balancer, Livepeer, DaoStack, Decentraland, and many others. Graph usage has grown by more than 50 percent on a monthly basis and reached more than 7 billion queries in September 2020.
The Graph has a global community, including more than 200 indexing nodes in the testnet and more than 2,000 curators in the Curator Program as of October 2020. To fund the development of the network, The Graph has raised funds from community members, strategic VCs, and influential individuals in the blockchain community, including Coinbase Ventures, DCG, Framework, ParaFi Capital, CoinFund, DTC, Multicoin, Reciprocal Ventures, SPC, Tally Capital, and others. The Graph Foundation also completed a successful public sale of GRT with participation from 99 countries (excluding the United States). To date, as of November 2020, The Graph has raised ~$25 million.[....]
Source: coinmarketcap.com

February 15, 2023 signal board
LONG - The Graph - GRTUSDT
Input price: 0.1674 USDT (current price or any price if not too far away)
Important:
Please note that the chosen signal has been identified from those detected by the Lift-Off indicator, which you can view in the "Signals" section of our website. However, we will NOT provide any guidance on how to handle the trade.
We recommend that you handle the trades as shown during our professional courses on using the platform, available at the following link: https://it.largetrader.com/eventi