SIGN UP NOW FOR FREE


Discover Forex, Stocks and Crypto trading signals with 79% to 89% accuracy
If you want to receive trading signals - like these in real time - register on the platform and buy the Pro version of LargeTrader.
Trading Signal SHORT Alexandria Real Estate Equities Inc. - ARE
US stock price signals and analysis
Good morning Traders,
Today, August 30, Lift-Off offers a SHORT trading signal on the NYSE-listed US stock Alexandria Real Estate Equities, Inc. (Ticker: ARE).
At the close of the day that makes a loss of 1.11 percent, closing at $153.98 per share.
The company is an urban office real estate investment trust, which in view of the probable recession, given the current macroeconomic data, we believe may experience losses in turnover and thus a decline in share price.
In addition, its economic balance sheet data, detect a company in trouble, let's see a few key figures: a cash-to-debt ratio much lower than 1, precisely 0.04 and a WACC vs. ROIC ratio decidedly negative, therefore the company loses value.
Below the chart of Alexandria Real Estate Equities, Inc. - ARE - with the signal detected by Lift-Off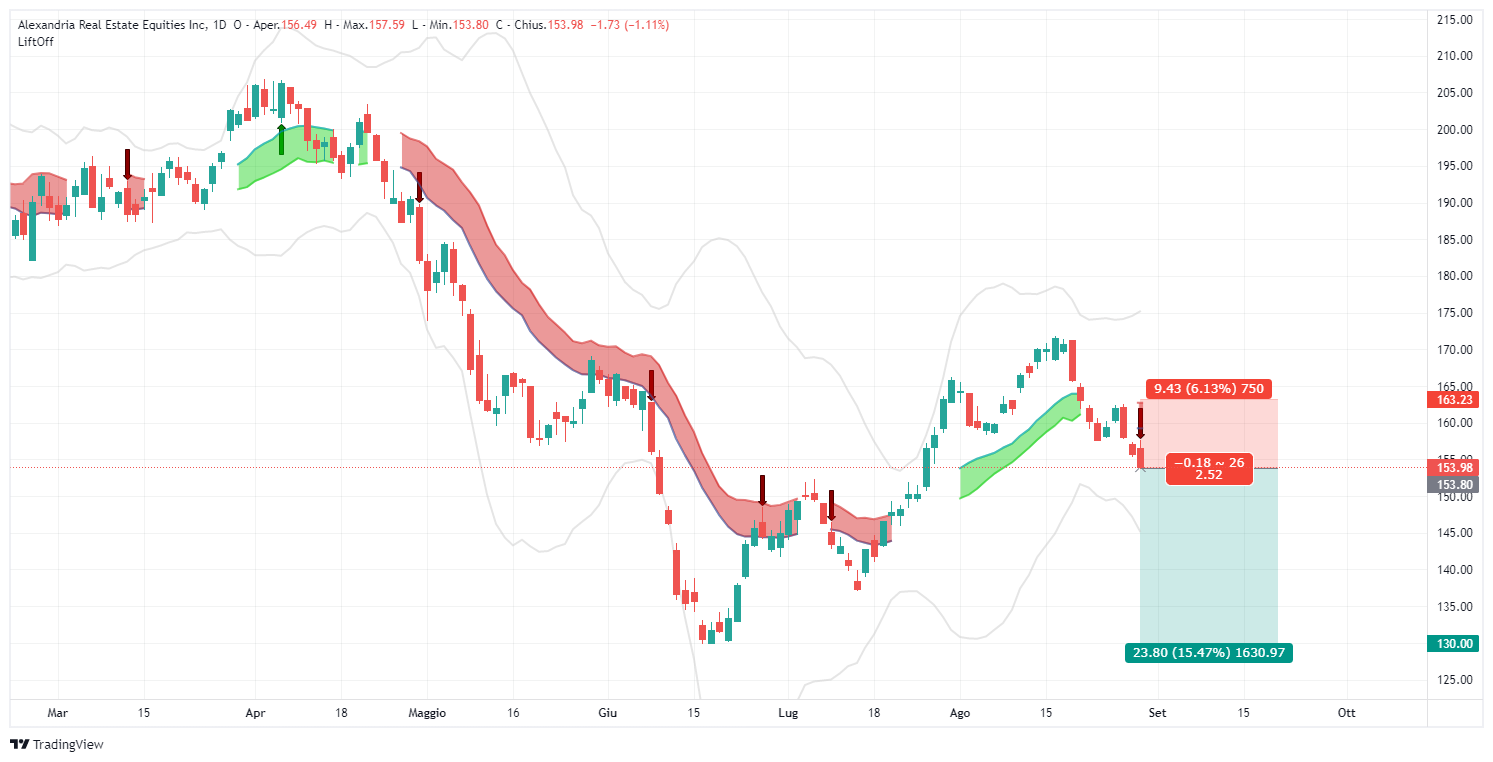 Take profit placed on the period lows, beyond the price may reach the low marked at the beginning of the 2020 pandemic
Some information about Alexandria Real Estate Equities, Inc.
Alexandria Real Estate Equities, Inc, is an urban office real estate investment trust listed on the S&P 500 index, is the first, longest-running and pioneering owner, operator, and developer uniquely focused on collaborative life sciences, technology, and agtech campuses in AAA innovation cluster locations, with a total market capitalization of $31.9 billion as of December 31, 2020
Founded in 1994, Alexandria pioneered this niche and has since established a significant market presence in key locations, including Greater Boston, San Francisco, New York City, San Diego, Seattle, Maryland, and Research Triangle.
Alexandria has a long and proven track record of developing Class A properties that provide their tenants with innovative, highly dynamic and collaborative environments that enhance their ability to successfully recruit and retain world-class talent and inspire productivity, efficiency, creativity and success.
Alexandria also provides strategic capital to transformative life science, technology, and agtech companies through our venture capital platform.
Source: https://finance.yahoo.com/
Financial Overview: The current market capitalization of ARE is USD 25,407B. The company's TTM EPS is 1.86 USD, dividend yield is 3.03% and PE is 84.19. Alexandria Real Estate Equities, Inc's next earnings release date is Oct. 31. The estimate is US$1.12.
Accounts, including revenue, expenses, profit and loss: AER's total revenue for the latest quarter is US$643.76M, up 4.67% from the previous quarter. Net income in Q2 22 is 269.28M USD.
Overview Data and Accounts Source: Tradingview.com
Signal Board August 30, 2022
SHORT- Alexandria Real Estate Equities, Inc.- ARE
Input price: $153.98
Stop Loss: $163.23
Take profit 1: $130
R/R: 2.52
.