SIGN UP NOW FOR FREE


Discover Forex, Stocks and Crypto trading signals with 79% to 89% accuracy
If you want to receive trading signals - like these in real time - register on the platform and buy the Pro version of LargeTrader.
Trading signal American Tower Corp - AMT
U.S. stock price signals and analysis
LLift-Off, with the close of March 17, detected a SHORT trading signal on the stock of American Tower Corp (Ticker: AMT) listed on the NYSE and part of the S&P500 index.
The stock closed at US$201.25 per share.
Markets are betting on an FED interest rate cut as early as 2024 or at least stability, in fact, the NASDAQ index performed very well, while the SP500 index put in a negative day on Friday due to liquidity problems of some banks raising concerns about a contagion effect.
We attempt the short on this signal, cje records a false break to the upside of the previous high (old Lift-Off signal) and closes inside the red band.
Below chart of American Tower Corp - AMT - with the signal detected by Lift-Off.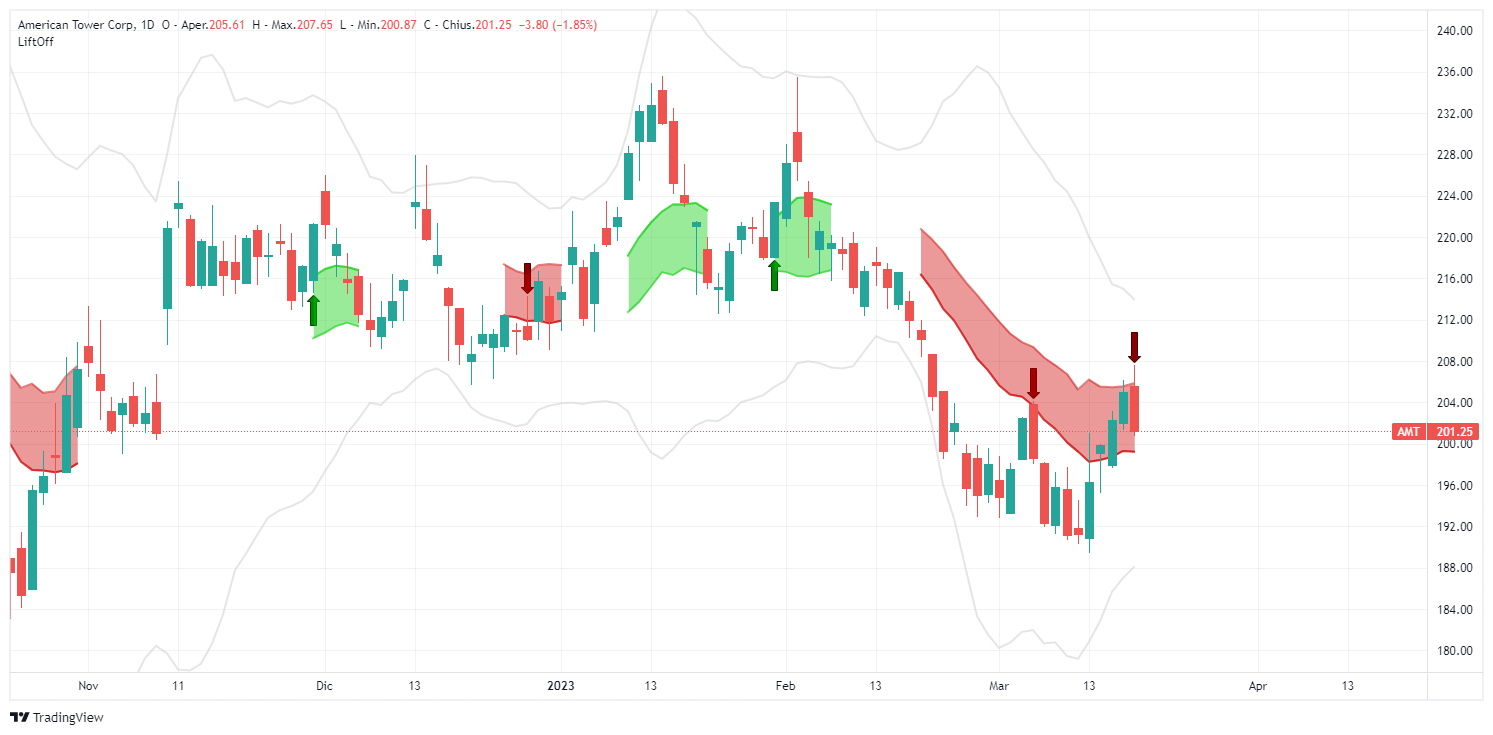 MT, or American Tower Corporation, is a real estate company specializing in the ownership and management of telecommunications infrastructure, such as towers and antennas. Founded in 1995 and headquartered in Boston, the company has a global presence in more than 20 countries and provides leasing, management and infrastructure development services for a wide range of clients in the telecommunications industry. AMT is committed to providing innovative and reliable solutions to meet growing global communications needs.
Next earnings announcement for Q1 2023: May 4, 2023
Financial Overview: AMT's current market capitalization is USD 93,758B. The company's TTM EPS is USD 3.85, dividend yield is 2.99% and PE is 53.40. American Tower Corporation's (REIT) next earnings release date is May 4. The estimate is US$1.11.
Accounts, including revenue, expenses, profit and loss: AMT's total revenue for the latest quarter is US$2.71B, up 1.25% from the previous quarter. Net income in Q4 22 is -683.80M USD.
Overview data and accounts source: Tradingview.com
March 20, 2023 signal board
SHORT - American Tower Corp - AMT
Input price: 201.25$ (and any opening price)
Important:
Please note that the chosen signal has been identified among those detected by the Lift-Off indicator, which you can view in the "Signals" section of our site. However, we will NOT provide any guidance on how to handle the trade.
We recommend that you handle the trades as shown during our professional courses on using the platform, available at the following link: https://it.largetrader.com/eventi