SIGN UP NOW FOR FREE


Discover Forex, Stocks and Crypto trading signals with 79% to 89% accuracy
If you want to receive trading signals - like these in real time - register on the platform and buy the Pro version of LargeTrader.
Tesla Inc trading signal - TSLA
U.S. stock price signals and analysis
Good morning Traders,
With the close on Feb. 14, Lift-Off confirms a LONG trading signal on the U.S. stock Tesla Inc (Ticker: TSLA) listed on the NASDAQ
The stock closed at USD 209.25 per share, marking a +4.62%
Following the positive data on declining US inflation, the market continued its climb, thus forming the signal on Tesla.
Below chart of Tesla Inc - TSLA - with the signal detected by Lift-Off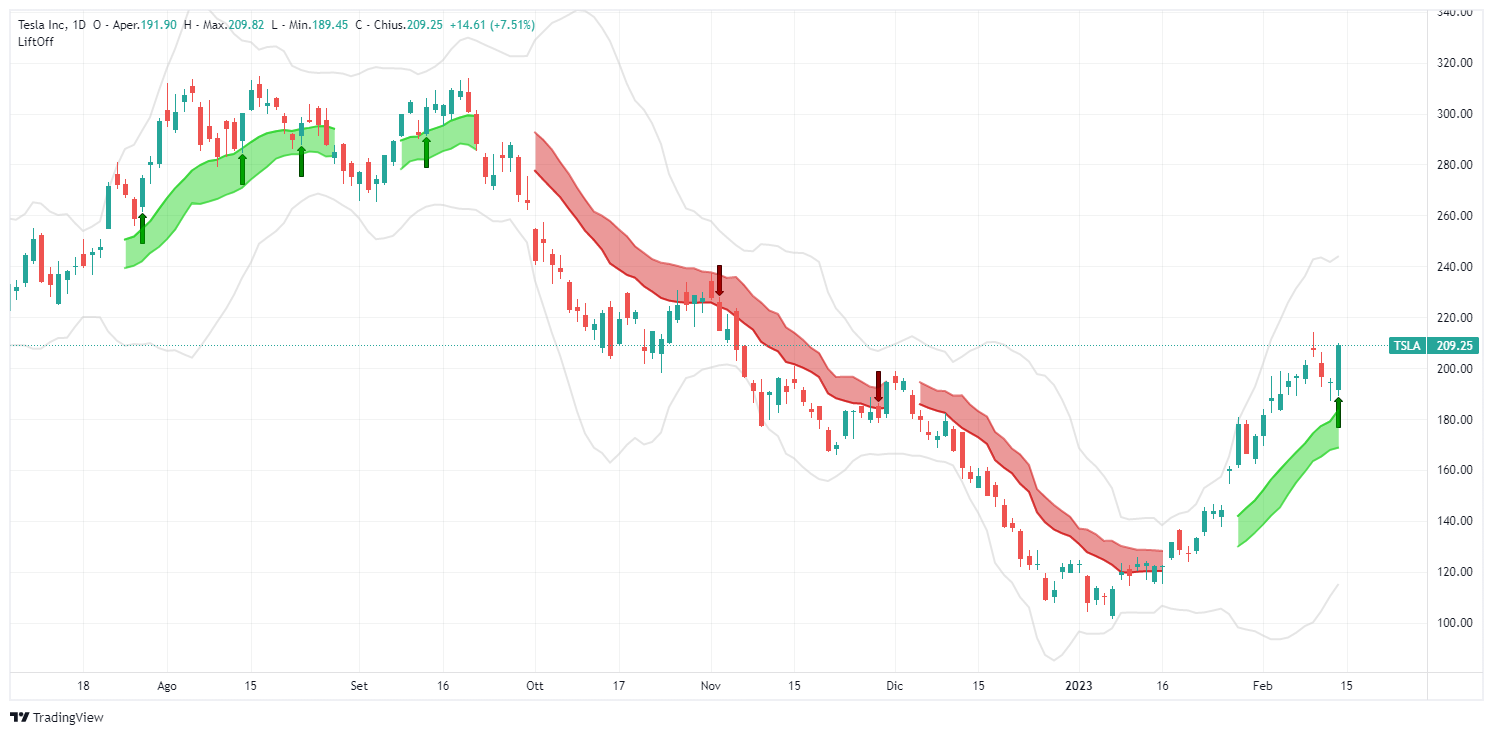 The company is engaged in the "Consumer Durable Goods" sector specifically in the "Motor Vehicle" Industry
Profile
Tesla, Inc. is engaged in the design, development, manufacture and sale of all-electric vehicles and energy generation and storage systems.
It also provides vehicle service centers, Supercharger stations and autonomous driving capabilities. The company through the Automotive sector designs, develops, manufactures, sells, and leases electric vehicles, as well as sales automotive regulatory credits.
While the Energy Generation and Storage sector includes the design, manufacture, installation, sale, and lease of stationary energy storage products and solar energy systems, and the sale of electricity generated by its solar energy systems to customers. It develops energy storage products for use in homes, commercial facilities, and utility sites.
The company was founded by Jeffrey B. Straubel, Elon Reeve Musk, Martin Eberhard, and Marc Tarpenning on July 1, 2003, and is headquartered in Austin, Texas.

Next earnings announcement for Q1 2023:April 24, 2023
Q4 2022 earnings
EPS: Reported 1.19 / Expected 1.13 / Previous 1.05
Earnings: Reported 24.32B/ Expected 24.67B/ Previous 21.45B
Financial Overview: TSLA's current market capitalization is 615.861B USD. The next earnings release date for Tesla, Inc is April 24. The estimate is US$0.87.
Accounts, including revenue, expenses, profit and loss: TSLA's total revenue for the latest quarter is US$24.32B, up 13.35% from the previous quarter. Net income in Q4 22 is 3.72B USD.
Overview data and accounts source: Tradingview.com
February 15, 2023
LONG - Tesla Inc - TSLA
Input price: $209.25 (and any opening price)
Important:
We would like to remind you that the signal chosen was identified from those detected by the Lift-Off indicator, which you can view in the "Signals" section of our website. However, we will NOT provide any guidance on how to handle the trade.
We recommend that you handle the trades as shown during our professional courses on using the platform, available at the following link: https://it.largetrader.com/eventi