SIGN UP NOW FOR FREE


Discover Forex, Stocks and Crypto trading signals with 79% to 89% accuracy
If you want to receive trading signals - like these in real time - register on the platform and buy the Pro version of LargeTrader.
Synthetix trading signal - SNX
Altcoin Price Signals and Analysis
Good Morning Traders,
At the close of February 1, a Lift-Off, LONG trading signal formed on the altcoin Synthetix (SNXUSDT)
snx against USDT closed at USDT 2.665, marking a +15.77%.
Following Powell's words at last night's FOMC, financial markets continued their ascent strongly, confident that inflation is coming down and that the FED is close to stable interest rates, which were raised by 25 bps yesterday.
It is currently ranked 71st in the classic by capitalization.
Synthetix chart below with the signal detected by Lift-Off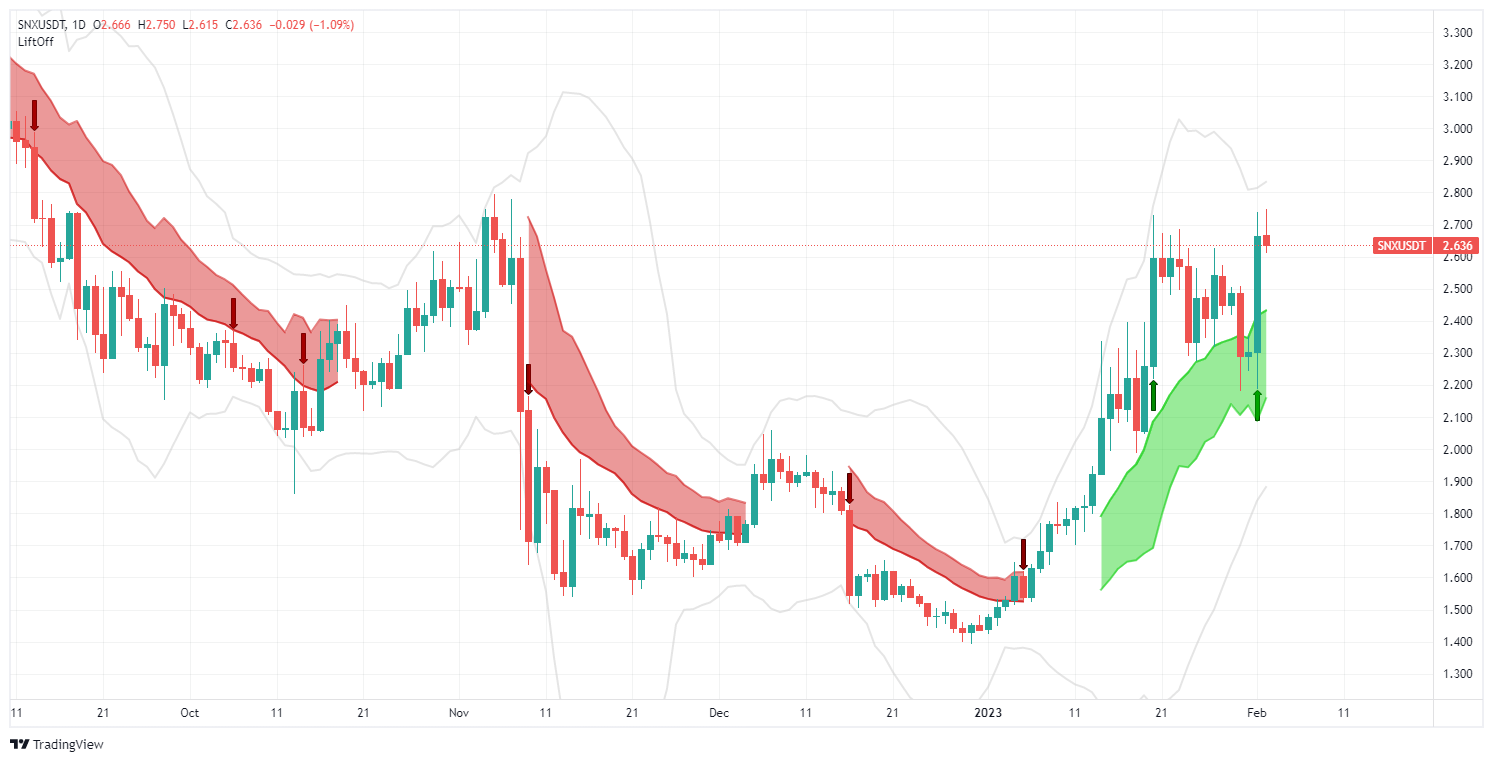 Two words about the Synthetix project:
[...]Synthetix is a decentralized finance (DeFi) protocol that provides on-chain visibility to a wide variety of cryptographic and non-cryptographic assets. The protocol is based on the Ethereum blockchain (ETH) and provides users with access to highly liquid synthetics (synths). The synths track and provide returns on the underlying asset without requiring direct ownership of the asset.
The platform aims to expand the cryptocurrency space by introducing non-blockchain assets, providing access to a more robust financial market.[....]
Source: coinmarketcap.com

Signal board of February 2, 2023
LONG - Synthetix - SNXUSDT
Input price: 2.636 USDT (current price or any price if not too far away)
Important:
Please note that the chosen signal has been identified from those detected by the Lift-Off indicator, which you can view in the "Signals" section of our website. However, we will NOT provide any guidance on how to handle the trade.
We recommend that you handle the trades as shown during our professional courses on using the platform, available at the following link: https://it.largetrader.com/eventi