SIGN UP NOW FOR FREE


Discover Forex, Stocks and Crypto trading signals with 79% to 89% accuracy
If you want to receive trading signals - like these in real time - register on the platform and buy the Pro version of LargeTrader.
SHORT trading signal Electronic Arts Inc. - EA
US Stock Price Signals and Analysis
Good Morning Traders,
Today, August 30, Lift-Off offers a SHORT trading signal on US stock Electronic Arts Inc. (Ticker: EA) listed on NASDAQ.
At the close of the day that makes a loss of 2.42 percent, closing at USD 126.47 per share.
The company is a giant in the Tech and digital entertainment industry, producing a variety of games for consoles and PCs. Given the probable recession, given the current macroeconomic data, usually Tech companies suffer these risk-off periods.
From the main corporate balance sheet data, the company has good data, only in the last 2 years after the great result of 2019 the company is reducing net profits, despite this the company remains excellent, but at this time the return to the lows is, in our opinion, highly probable.
Under the chart of Electronic Arts Inc. - EA - with the signal detected by Lift-Off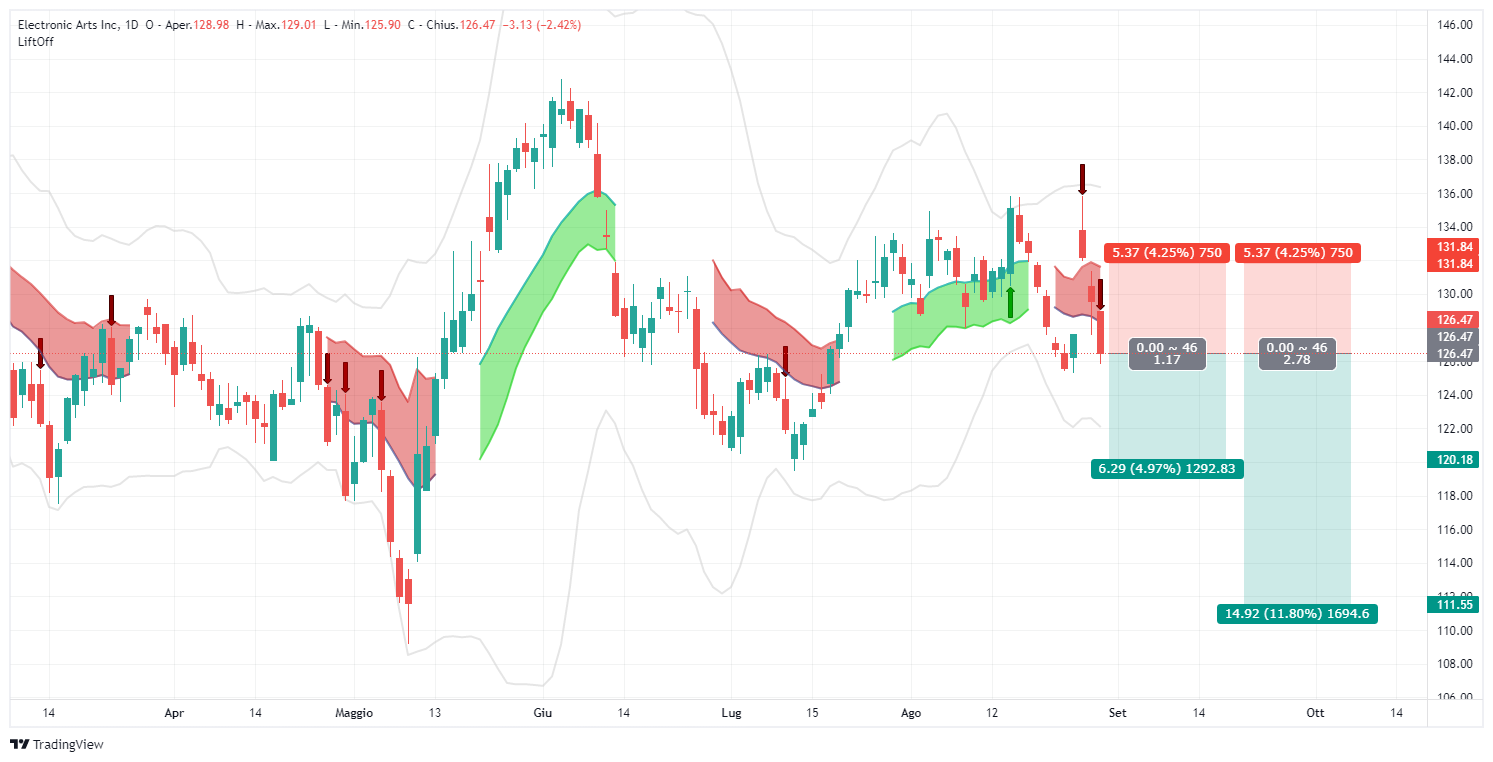 Take profit 1 placed on the July lows, and as a second target the May 2022 lows.
Some information on Electronic Arts Inc. - EA
Electronic Arts Inc. develops, markets, publishes and distributes games, content and services for game consoles, PCs, cell phones and tablets worldwide.
Develops and publishes games and services in various genres, such as sports, racing, first-person shooters, action, role-playing and simulation games primarily under the Battlefield, The Sims, Apex Legends, Need for Speed and licensed games of others, including the FIFA, Madden NFL, UFC and Star Wars brands.
The company licenses its games to third parties for distribution and hosting of its games. It markets and sells its games and services through digital distribution and retail channels, as well as directly to mass market retailers, specialty stores, and distribution agreements.
Electronic Arts Inc. was incorporated in 1982 and is headquartered in Redwood City, California.
Source: https://finance.yahoo.com/
Financial Overview: AElectronic Arts' current market capitalization is US$35,164B. The company's TTM EPS is 3.18 USD, dividend yield is 0.60% and PE is 41.04. Electronic Arts Inc's next earnings release date is Nov. 1. The estimate is US$1.38.
Accounts, including revenue, expenses, profit and loss: EA's total revenue for the latest quarter is US$1.75B, down 3.64% from the previous quarter. Net income in Q1 22 is 311.00M USD.
Overview data and accounts source: Tradingview.com
Signal board August 30, 2022
SHORT- Electronic Arts Inc. - EA
Input price: $126.47
Stop Loss: $131.84
Take profit 1: $120.20
R/R: 1.17
Take profit 2: $111.55
R/R: 2.78
.