SIGN UP NOW FOR FREE


Discover Forex, Stocks and Crypto trading signals with 79% to 89% accuracy
If you want to receive trading signals - like these in real time - register on the platform and buy the Pro version of LargeTrader.
SHORT trading signal Autodesk Inc. - ADSK
US Stock Price Signals and Analysis
Good Morning Traders,
Today September 05, Lift-Off offers a SHORT trading signal on the NASDAQ-listed US stock Autodesk Inc. (Ticker: ADSK).
The stock started its descent in August 2021 after marking its all-time high, after a recovery, which however did not make the stock reach its highs, creating what is called "No Higher High" began its descent.
Autodesk deals in drawing software, 3D modeling and other services, listed on the Nasdaq is part of the tech sector that in times of recession suffers more than others from market declines.
Under the chart of Autodesk Inc. - ADSK - with the signal detected by Lift-Off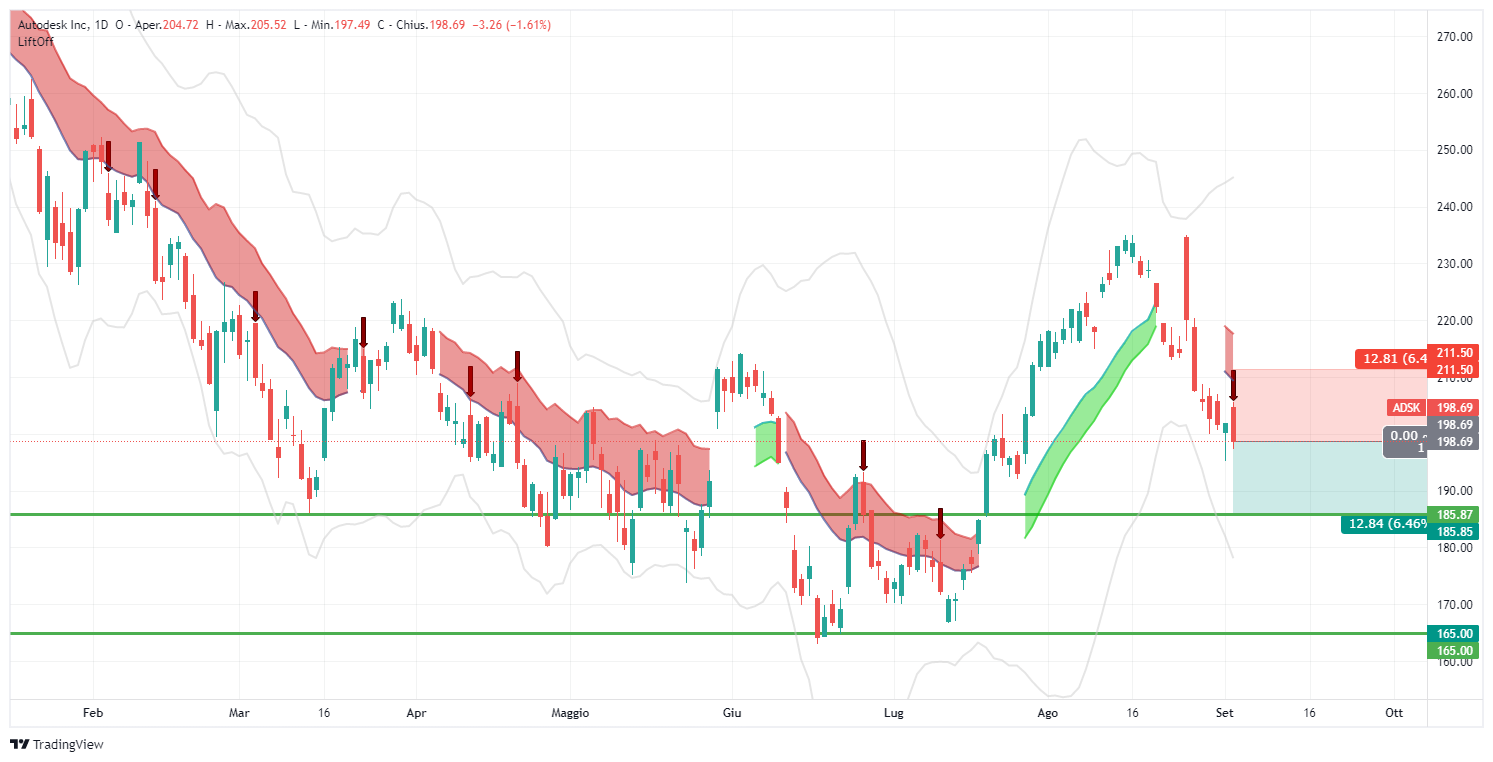 Below the chart with the two take profit levels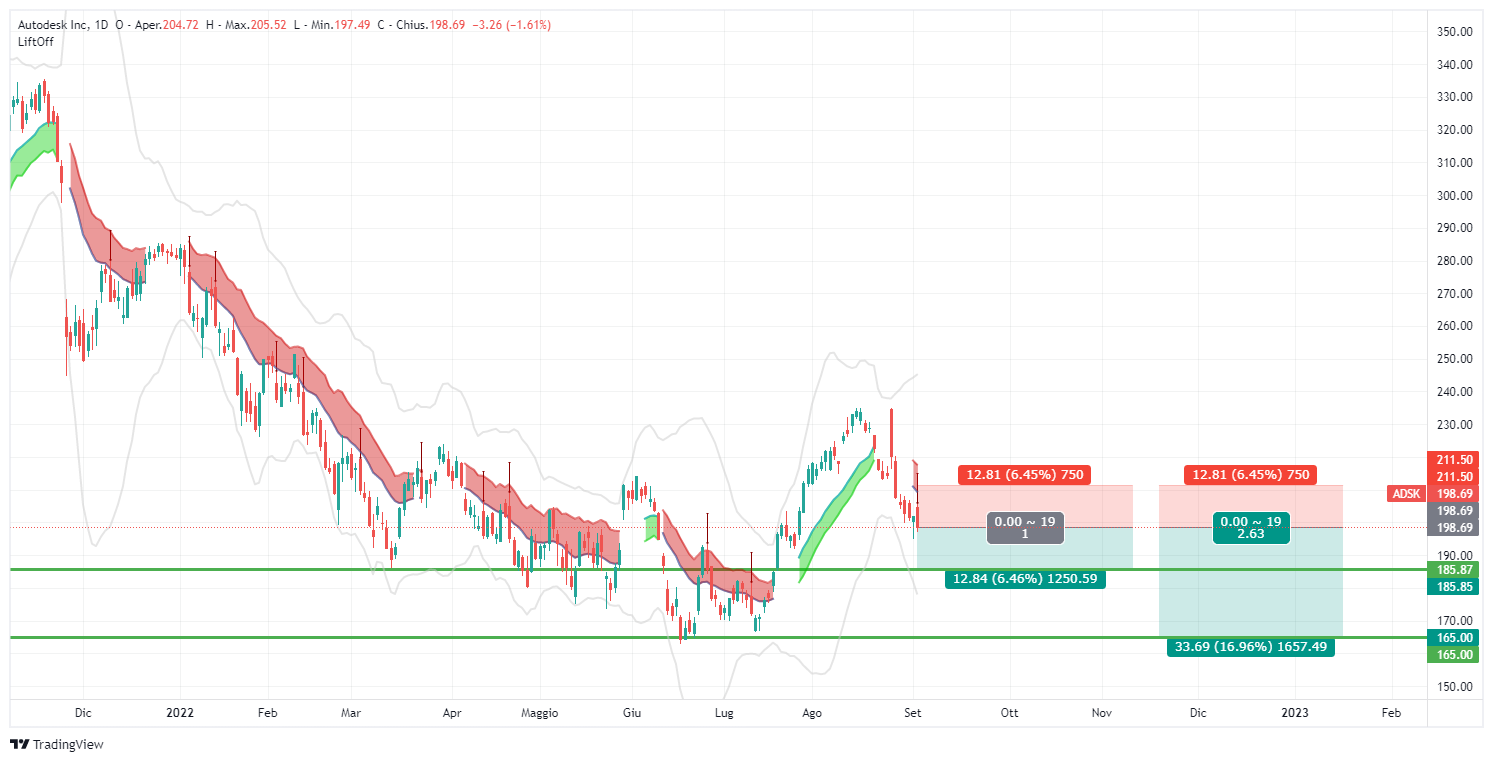 The first target where half a position can be closed has an RR of 1:1 on the level of about $186, a price level that has served as support and resistance for the price in the last period, while target 2 can be left off and let it run to the period lows made on June 16, which could lead to an RR of 1:2.63
Some information on Autodesk Inc.
Autodesk, Inc. provides 3D design, engineering, and entertainment software and services worldwide.
The company offers AutoCAD Civil 3D, a surveying, design, analysis, and documentation solution for civil engineering, including land development, transportation, and environmental projects; BIM 360, a cloud-based construction management software; AutoCAD, a professional design, drafting, detailing, and visualization software; AutoCAD LT, a drafting and detailing software computer-aided manufacturing (CAM) software for machining, inspection, and computer numerical control modeling for manufacturing; Fusion 360, a 3D CAD, CAM, and computer-aided engineering tool; and Industry Collections tools for professionals in the architecture, engineering and construction, product design and manufacturing, and media and entertainment collection sectors.
It also provides Inventor tools for 3D mechanical design, simulation, analysis, tools, visualization, and documentation; Vault, a data management software to manage data in one central location, accelerate design processes, and optimize the interior
Source: https://finance.yahoo.com/
Financial Overview: AdSK's current market capitalization is US$42,889B. The next earnings release date for Autodesk, Inc is Nov. 29. The estimate is US$1.70.
Accounts, including revenue, expenses, profit and loss: ADSK's total revenue for the latest quarter is US$1.23B, up 5.33% from the previous quarter. Net income in Q2 22 is 186.00M USD.
Overview data and accounts source: Tradingview.com
Signal Board September 05, 2022
SHORT- Autodesk Inc. - ADSK
Input price: $198.69 (and any opening price)
Stop Loss: $211.50
Take profit 1: $185.85
R/R: 1
Take profit 2: No target or $165
R/R: 2.63
.