SIGN UP NOW FOR FREE


Discover Forex, Stocks and Crypto trading signals with 79% to 89% accuracy
If you want to receive trading signals - like these in real time - register on the platform and buy the Pro version of LargeTrader.
SHORT trading signal Apple Inc. - AAPL
US stock price signals and analysis
Good morning Traders,
Today, September 05, Lift-Off offers a SHORT trading signal on the NASDAQ-listed US stock Apple Inc. (Ticker: AAPL), part of the S&P500 and NASDAQ index.
The stock after nearly reaching its all-time highs after reversing nearly 30 percent from its absolute highs, Friday forms a bearish signal signaled by Lift-Off.
Apple is also re-aligning with the stock market due to macroeconomic data, which sees a possible recession in the near future.
Below the chart of Apple Inc. - AAPL - with the signal detected by Lift-Off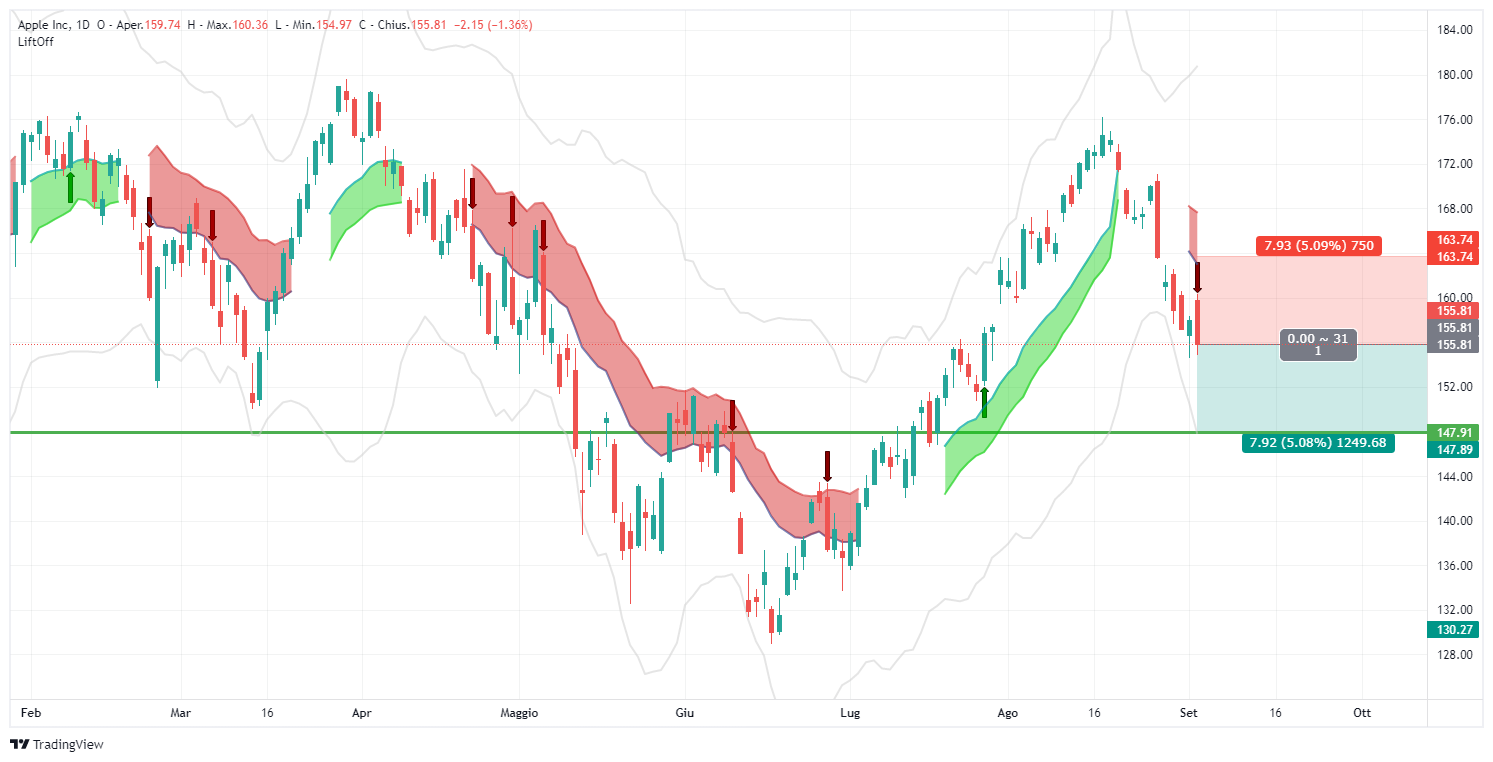 Below the chart with the two take profit levels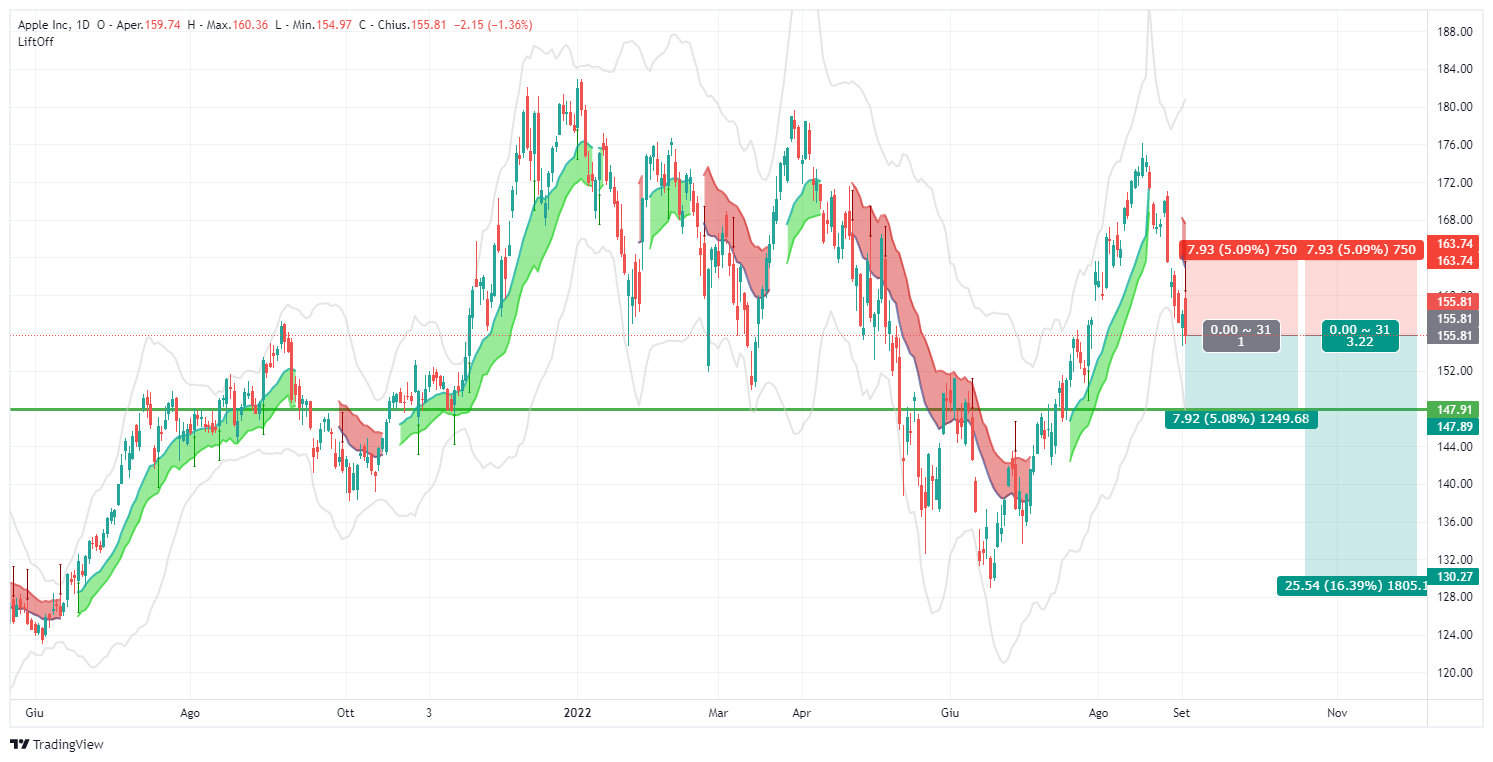 The first target where one can close half of the position has an RR of 1:1 on the level of about $148, a price level in the past "felt" by the market, while target 2 one can not put in and let it run until the period lows made on June 16, which could lead to an RR of 1:3.22
Lift-OffBacktest, 81% of the signals provided, produced a positive close within 10 days of the signal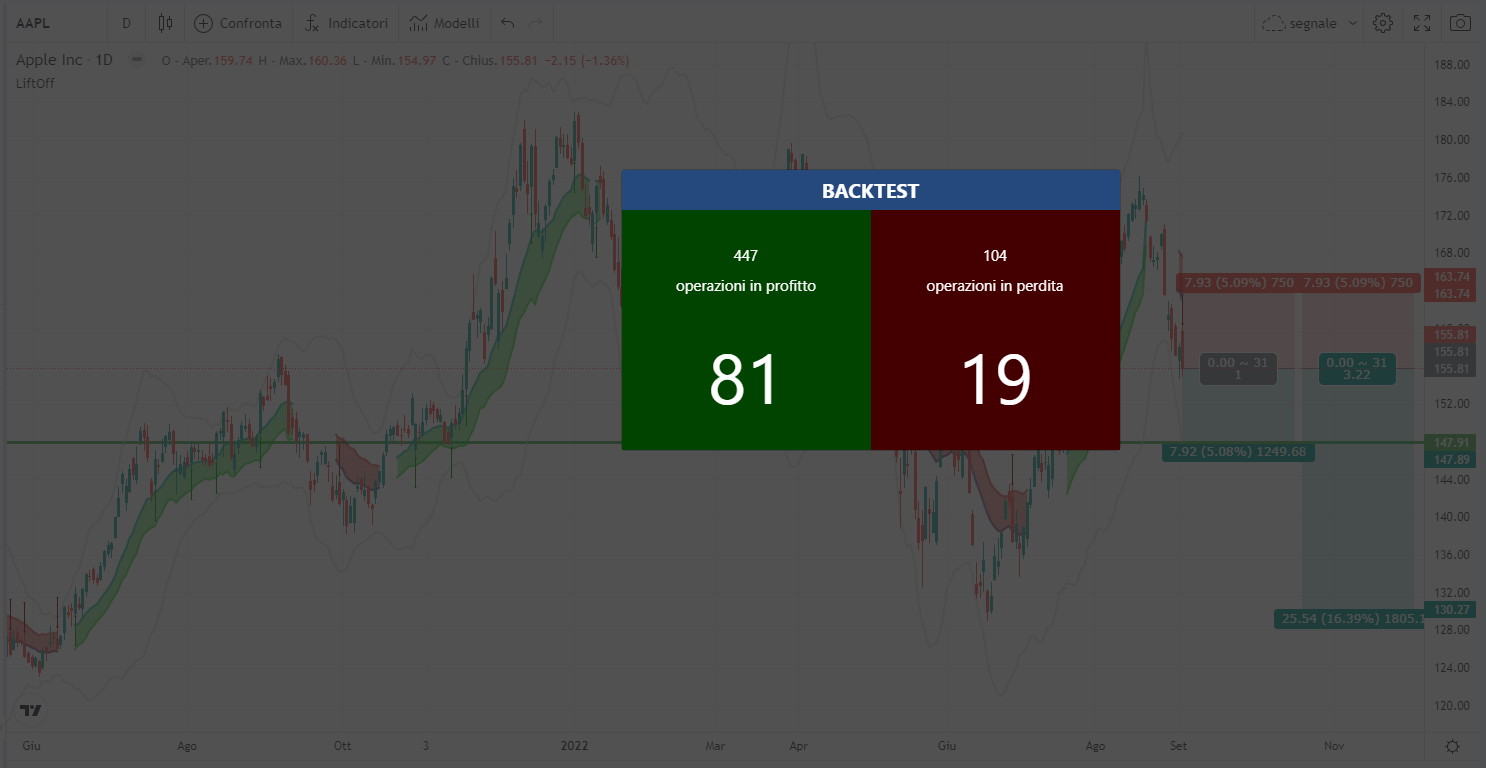 Some information about Apple Inc.
Apple Inc. designs, manufactures, and markets smartphones, personal computers, tablets, wearable devices, and accessories worldwide. It also sells various related services.
In addition, the company offers iPhones, a line of smartphones; Macs, a line of personal computers; iPads, a line of multipurpose tablets; AirPods Max, a wireless over-ear headphone; and wearables, home and accessories that include AirPods, Apple TV, Apple Watch, Beats products, HomePods and iPod touches.
In addition, it provides AppleCare support services; cloud services storage services; and operates various platforms, including the App Store, that allow customers to discover and download apps and digital content, such as books, music, videos, games, and podcasts.
The company offers various services, such as Apple Arcade, a subscription-based games service; Apple Music, which offers users a curated listening experience with on-demand radio stations; Apple News, a subscription-based news and magazine service; Apple TV, which offers exclusive original content; Apple Card, a co-branded credit card; and Apple Pay, a cashless payment service, as well as licensing its intellectual property.
In addition, it serves consumers and small and medium-sized businesses; and the education, business, and government markets. It distributes third-party applications for its products through the App Store.
It also sells its products through its retail and online stores and direct sales force; and third-party cellular network operators, wholesalers, retailers and resellers. Apple Inc. was incorporated in 1977 and is headquartered in Cupertino, California.
Source: https://finance.yahoo.com/
Financial Overview: AAPL's current market capitalization is USD 2,504T. The company's TTM EPS is $6.10 USD, dividend yield is 0.59% and PE is 26.10. Apple Inc's next earnings release date is November 3. The estimate is US$1.26.
Accounts, including revenue, expenses, profit and loss: AAPL's total revenue for the latest quarter is US$82.96B, down 14.72% from the previous quarter. Net income in Q3 22 is 19.44B USD.
Overview data and accounts source: Tradingview.com
Signal Board September 05, 2022
SHORT- Apple Inc. - AAPL
Input price: $155.80 (and any opening price)
Stop Loss: $164
Take profit 1: $147.50
R/R: 1
Take profit 2: No target or $130
R/R: 3.22
.