SIGN UP NOW FOR FREE


Discover Forex, Stocks and Crypto trading signals with 79% to 89% accuracy
If you want to receive trading signals - like these in real time - register on the platform and buy the Pro version of LargeTrader.
SHORT trading signal American Tower Corporation - AMT
US Stock Price Signals and Analysis
Good Morning Traders,
Today, September 05, Lift-Off offers a SHORT trading signal on the NYSE-listed American Tower Corporation (Ticker: AMT) stock.
The stock at the close of the day on Friday suffered a sharp drop in prices, closing the day by marking -2.64% at $250.85 per share, expressing very high volatility compared to the last trading days.
The stock is a real estate fund, which in macroeconomic periods of possible recession, have the worst of it, especially due to interest rate hikes that drive businesses and people away from applying for loans for real estate activities.
From a financial soundness standpoint, it presents negative data, although nonetheless the likelihood of growth is there, with a price currently valued at a discount.
Curiosity: Ray Dalio on June 30 sold all the AMT shares in his portfolio
Below is the chart of American Tower Corporation - AMT - with the signal detected by Lift-Off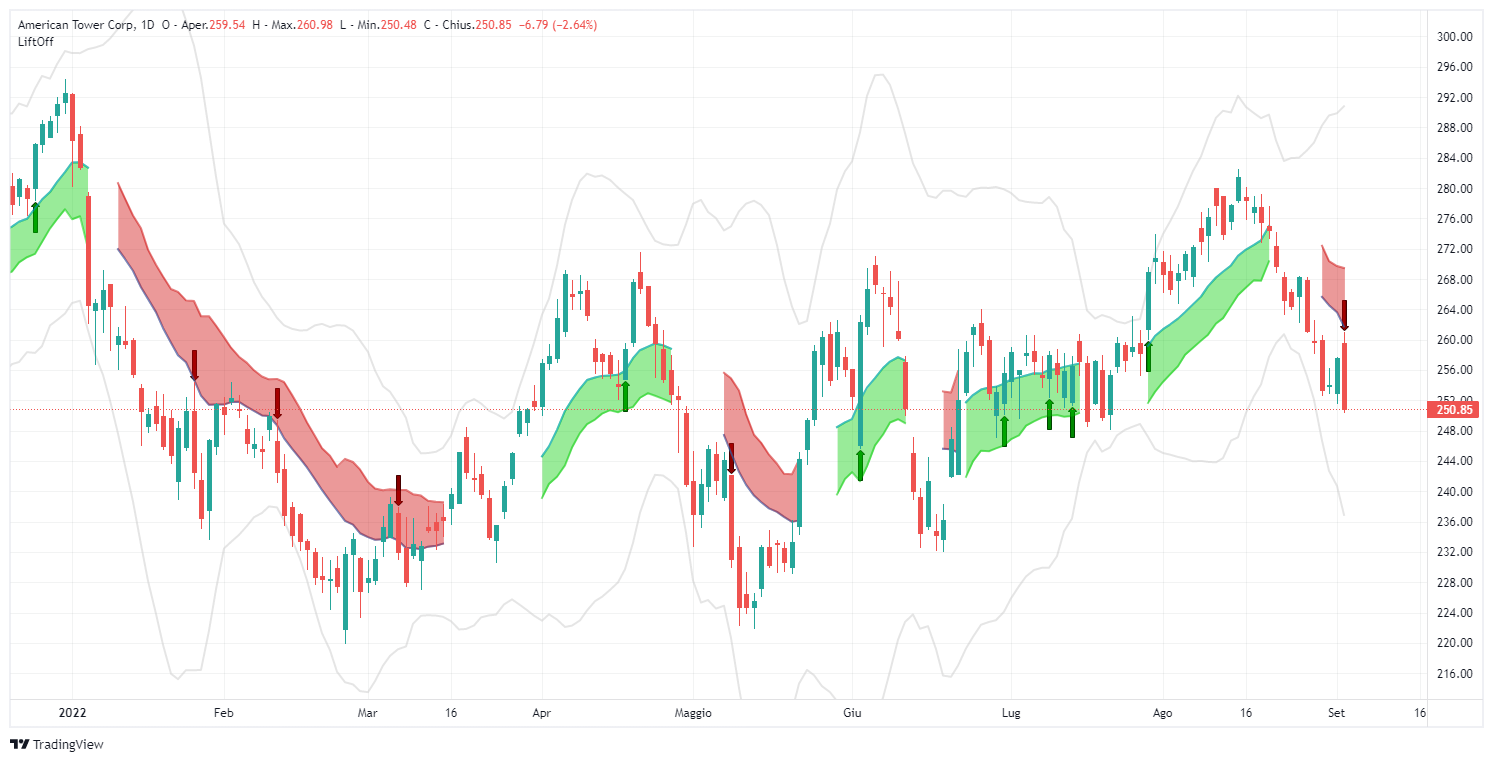 Below is the chart with the two take profit levels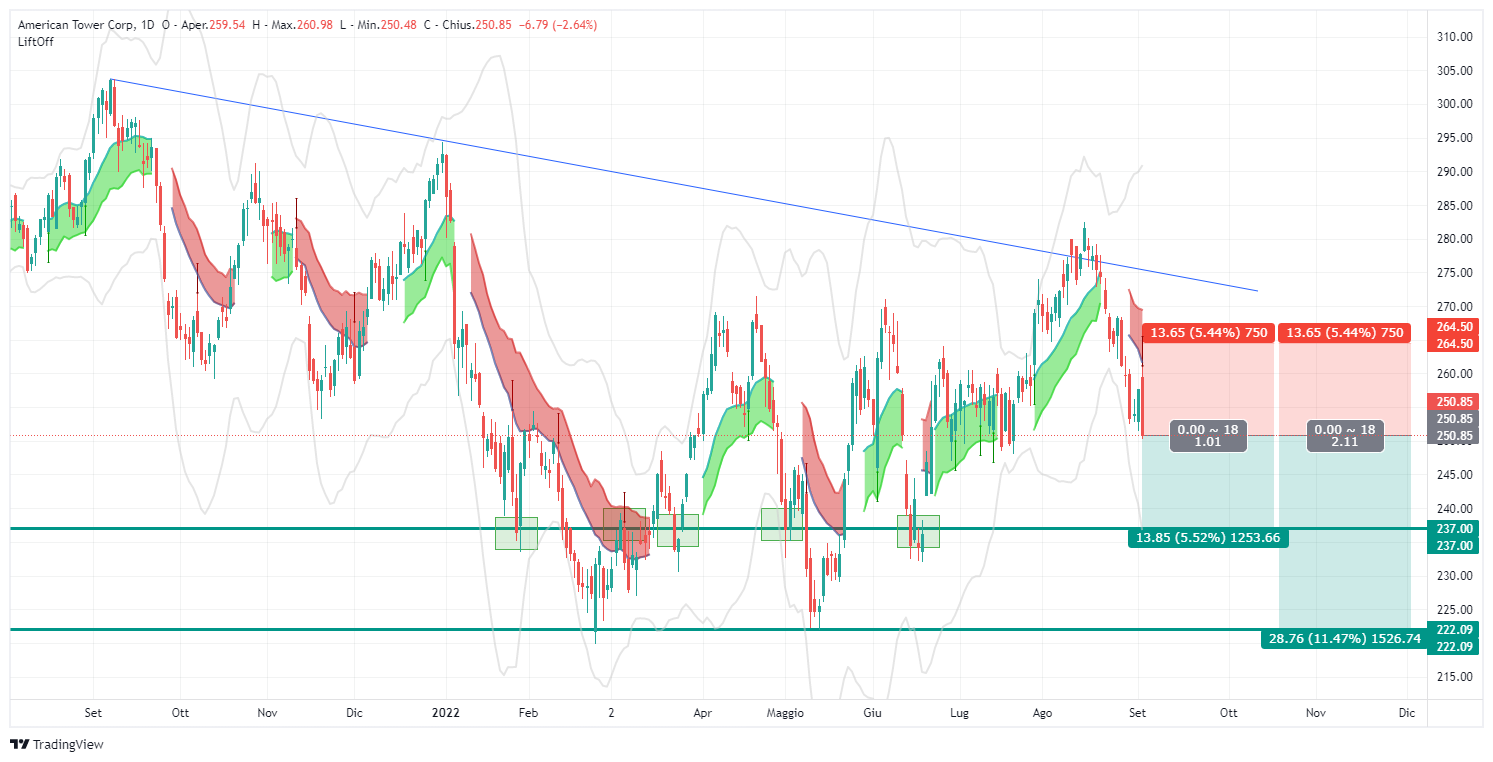 The first target where one can close half of the position has an RR of 1:1 on the level of about $237, a price level that has served as support and resistance for the price in the last period, while target 2 one can not put and let it run until the period lows of February and May 2022, which could lead to an RR of 1:2.11
Some information about American Tower Corporation
American Tower Corporation, one of the largest global REITs, is a leading owner, operator, and independent developer of multi-tenant communications real estate with a portfolio of approximately 219.000 communications sites.
Source: https://finance.yahoo.com/
American Tower Corporation (also referred to as American Tower or ATC) is an American real estate investment trust and owner and operator of wireless and broadcast communications infrastructure in several countries around the world and is headquartered in Boston, Massachusetts.
It is ranked 410th on the Fortune 500.
As of December 31, 2021, the company owned 199.330 communications sites, including 27,494 sites in the United States and Canada, 74,813 sites in Asia, 29,722 sites in Europe, 21,455 in Africa, and 45,816 sites in Latin America.
Source: https://wikipedia.com
Financial Overview: AMT's current market capitalization is US$116,792B. The company's TTM EPS is $6.10 USD, dividend yield is 2.20% and PE is 42.35. American Tower Corporation's (REIT) next earnings release date is November 1. The estimate is US$1.07.
Accounts, including revenue, expenses, profit and loss: AMT's total revenue for the latest quarter is US$2.67B, up 0.53% from the previous quarter. Net income in Q2 22 is 898.20M USD.
Overview data and accounts source: Tradingview.com
Signal Chart September 05, 2022
SHORT- American Tower Corporation - AMT
Input price: $250.85 (and any opening price)
Stop Loss: $264.50
Take profit 1: $237
R/R: 1
Take profit 2: No target or $222
R/R: 2.11
.