SIGN UP NOW FOR FREE


Discover Forex, Stocks and Crypto trading signals with 79% to 89% accuracy
If you want to receive trading signals - like these in real time - register on the platform and buy the Pro version of LargeTrader.
Ravencoin trading signal - RVNUSDT
Altcoin Price Signals and Analysis
Good Morning Traders,
At the close of January 19, a Lift-Off, LONG trading signal was formed on the altcoin Ravencoin (RVNUSDT)
RVN against USDT closed at USDT 0.02602, marking a +16.16%.
It is currently ranked 102nd in the classic by capitalization.
With BTC still managing to close above 21 yesterday.000 USDT, an interesting signal is formed on RVN, with volatility absorbing 4 days of declines and starting from the Lift-Off band with a nice movement and with the volatility deviations opening up, a sign of a possible continuation
Below chart of Ravencoin with the signal detected by Lift-Off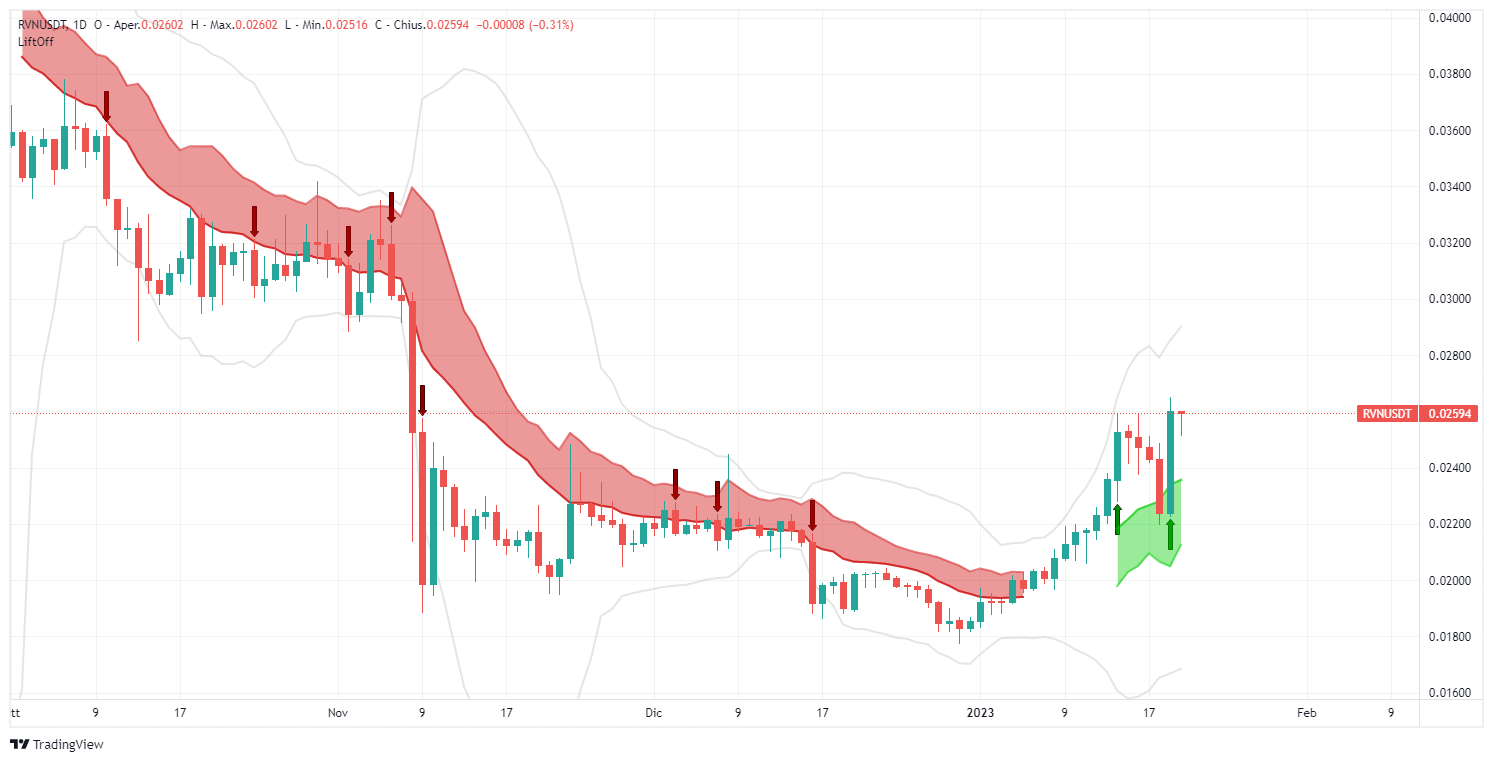 Two words about the Ravencoin project :
[...]Ravencoin is a digital peer-to-peer (P2P) network that aims to implement a use case-specific blockchain designed to efficiently handle a specific function: the transfer of resources from one party to another. Built on a fork of the Bitcoin code, Ravencoin was announced on October 31, 2017 and released binaries for mining on January 3, 2018 with what is called a fair launch: no premine, ICO or masternodes. Its name is in reference to the TV show Game of Thrones[....]
Source: coinmarketcap.com

Signal board of January 20, 2023
LONG - RAVECOIN - RVNUSDT
Input price: 0.02594 USDT (or any price if not too far away even beyond yesterday's closing price)
Important:
Please note that the chosen signal has been identified from those detected by the Lift-Off indicator, which you can view in the "Signals" section of our website. However, we will NOT provide any guidance on how to handle the trade.
We recommend that you handle the trades as shown during our professional courses on using the platform, available at the following link: https://it.largetrader.com/eventi