SIGN UP NOW FOR FREE


Discover Forex, Stocks and Crypto trading signals with 79% to 89% accuracy
If you want to receive trading signals - like these in real time - register on the platform and buy the Pro version of LargeTrader.
Qorvo Inc trading signal - QRVO
US stock price signals and analysis
Good morning Traders,
With the close of February 7, Lift-Off confirms a LONG trading signal on the US stock Qorvo Inc (Ticker: QRVO) listed on the NASDAQ and part of the S&P500 (SPX)
The stock closed at USD 109.41 per share, marking +7.01%.
Below the chart of Qorvo Inc - QRVO - with the signal detected by Lift-Off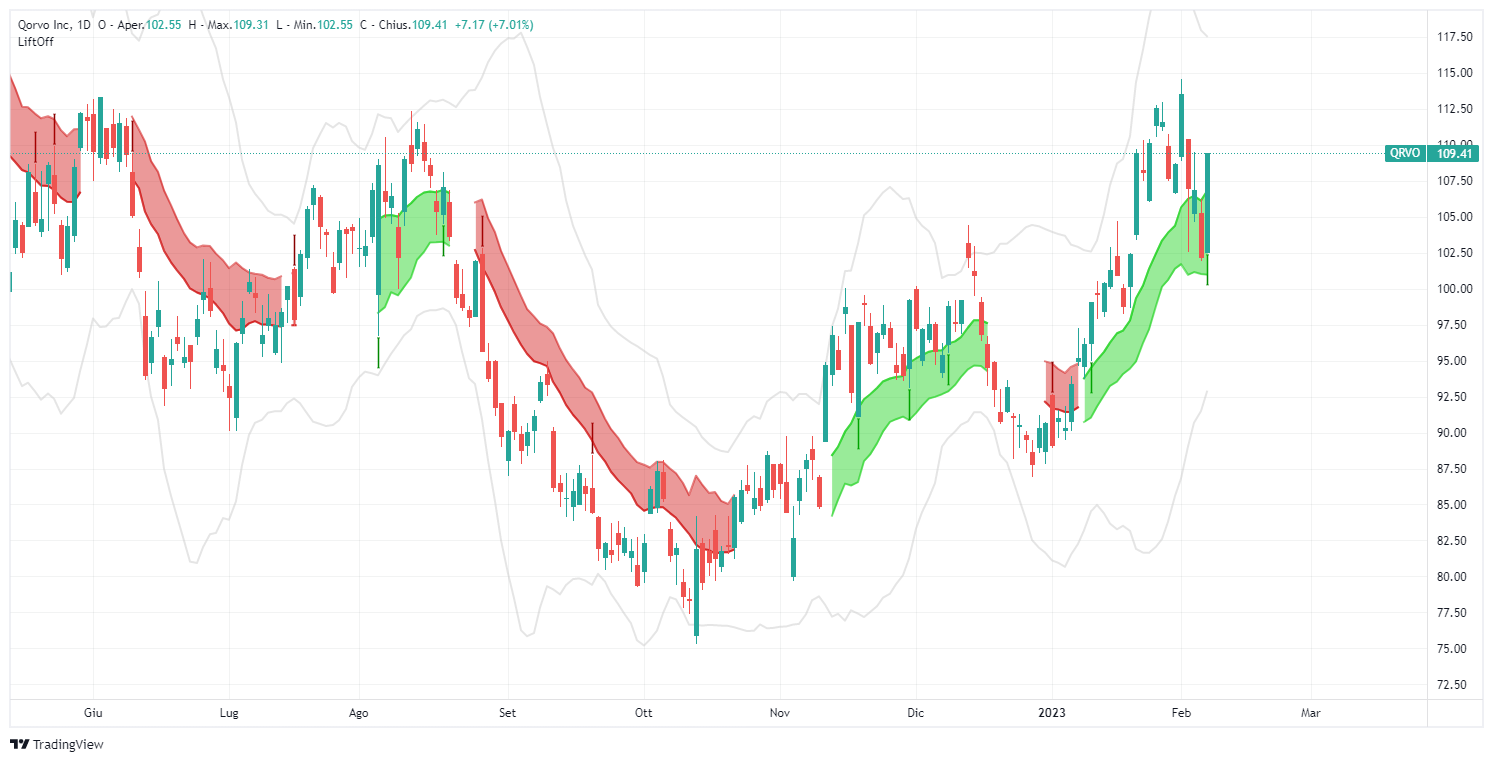 The company is engaged in the "Electronic Technology" industry particularly in the "Semi-conductor Industry"
Profile
Qorvo, Inc. is a technology company that provides advanced semiconductor solutions for the mobile device, communication and defense markets. The company was founded in 2015 and is headquartered in Greensboro, North Carolina. Qorvo designs, develops and produces power amplification devices, filters, modules and antenna solutions for leading mobile device manufacturers, network infrastructure and military equipment. The company serves customers worldwide and has a market capitalization of approximately 20 billion dollars. Qorvo is known for its innovative technology and its ability to provide solutions that increase energy efficiency and improve signal quality for its customers. The company is committed to providing sustainable solutions and investing in long-term growth opportunities.
Next earnings announcement for Q4 2022:May 3, 2023
Q3 2022 Results
EPS: Reported 0.75 / Expected 0.62 / Previous 2.66
Earnings: Reported 743.30M/ Forecasted 725.89M/ previous 1.16B
Financial Overview:QRVO's current market capitalization amounts to 10.213B USD. The next earnings release date for Qorvo, Inc is May 3. The estimate is $0.13 USD.
Accounts, including revenue, expenses, profit and loss:QRVO's total revenue for the latest quarter is $743.28M USD, down 35.82% from the previous quarter. Net income in Q3 22 is -15.93M USD.
Overview data and accounts source: Tradingview.com
February 8, 2023
LONG - Qorvo Inc - QRVO
Input price: 109.41 USD (and any price)
Important:
We would like to remind you that the chosen signal was identified from those detected by the Lift-Off indicator, which you can view in the "Signals" section of our website. However, we will NOT provide any guidance on how to handle the trade.
We recommend that you handle the trades as shown during our professional courses on using the platform, available at the following link: https://it.largetrader.com/eventi