SIGN UP NOW FOR FREE


Discover Forex, Stocks and Crypto trading signals with 79% to 89% accuracy
If you want to receive trading signals - like these in real time - register on the platform and buy the Pro version of LargeTrader.
Ocean Protocol trading signal - OCEAN
Altcoin Price Signals and Analysis
Good Evening Traders,
almost at the close of February 14, a Lift-Off, LONG trading signal is forming on the Ocean Protocol altcoin (OCEANUSDT)
OCEAN versus USDT at the moment stands at USDT 0.4764, marking a +13.70%.
After the news on U.S. inflation, down slightly from the previous reading, but not as expected, the market had a jolt, and then found the bullish direction.
BTC followed the traditional U.S. index market, dragging the entire altcoin market.
It is currently 124th in the classic by capitalization.
Below is the chart of Ocean Protocol with the signal detected by Lift-Off
Two words about the Ocean Protocol project:
[...]Ocean Protocol is a blockchain-based ecosystem that enables individuals and companies to easily unlock the value of their data and monetize it through the use of ERC-20-based data centers.
Through Ocean Protocol, publishers can monetize their data while preserving privacy and control, while consumers can now access datasets that were previously unavailable or hard to find. These datasets can be discovered on the Ocean Market, where they can be purchased and subsequently consumed or sold.
On Ocean Protocol, each data service is represented by a unique data token, which is used to wrap around a dataset or data processing service: this essentially allows third parties to perform operations on the data without it ever leaving the 'publisher's secure enclave.
OCEAN is a utility token used for community governance and staking on data, as well as buying and selling datatokens as basic exchange units in Ocean's marketplace. The price of these datatokens is set by an OCEAN-datatoken AMM pool, which adjusts the price of the datatoken when it is bought and sold based on supply and demand.[....]
Source: coinmarketcap.com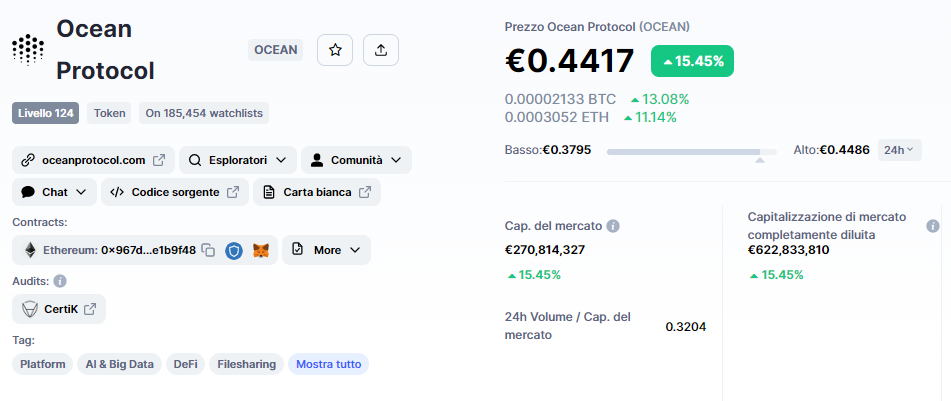 Signal board of Feb. 15, 2023
LONG - Ocean Protocol - OCEANUSDT
Input price: 0.4764 USDT (current price or any price if not too far away)
Important:
Please note that the chosen signal has been identified from those detected by the Lift-Off indicator, which you can view in the "Signals" section of our website. However, we will NOT provide any guidance on how to handle the trade.
We recommend that you handle the trades as shown during our professional courses on using the platform, available at the following link: https://it.largetrader.com/eventi