SIGN UP NOW FOR FREE


Discover Forex, Stocks and Crypto trading signals with 79% to 89% accuracy
If you want to receive trading signals - like these in real time - register on the platform and buy the Pro version of LargeTrader.
Mastercard Inc - MA trading signal
U.S. stock price signals and analysis
LLift-Off, with the close on April 13, detected a LONG trading signal on the stock of NYSE-listed Mastercard Inc (Ticker: MA), part of the S&P500 index.
The stock closed at USD 369.68 per share.
First signal since the green Lift-Off band came back on, closing above the March 7 high. The signal presents a good margin to get to the January 24 highs, but there is a need to keep in mind that the market has sudden changes in direction and therefore the signal may need to be handled early before getting to the amaximum. the deviation of higher volatility for profit taking should also be taken into consideration.
Below chart of Mastercard Inc - MA- with the signal detected by Lift-Off.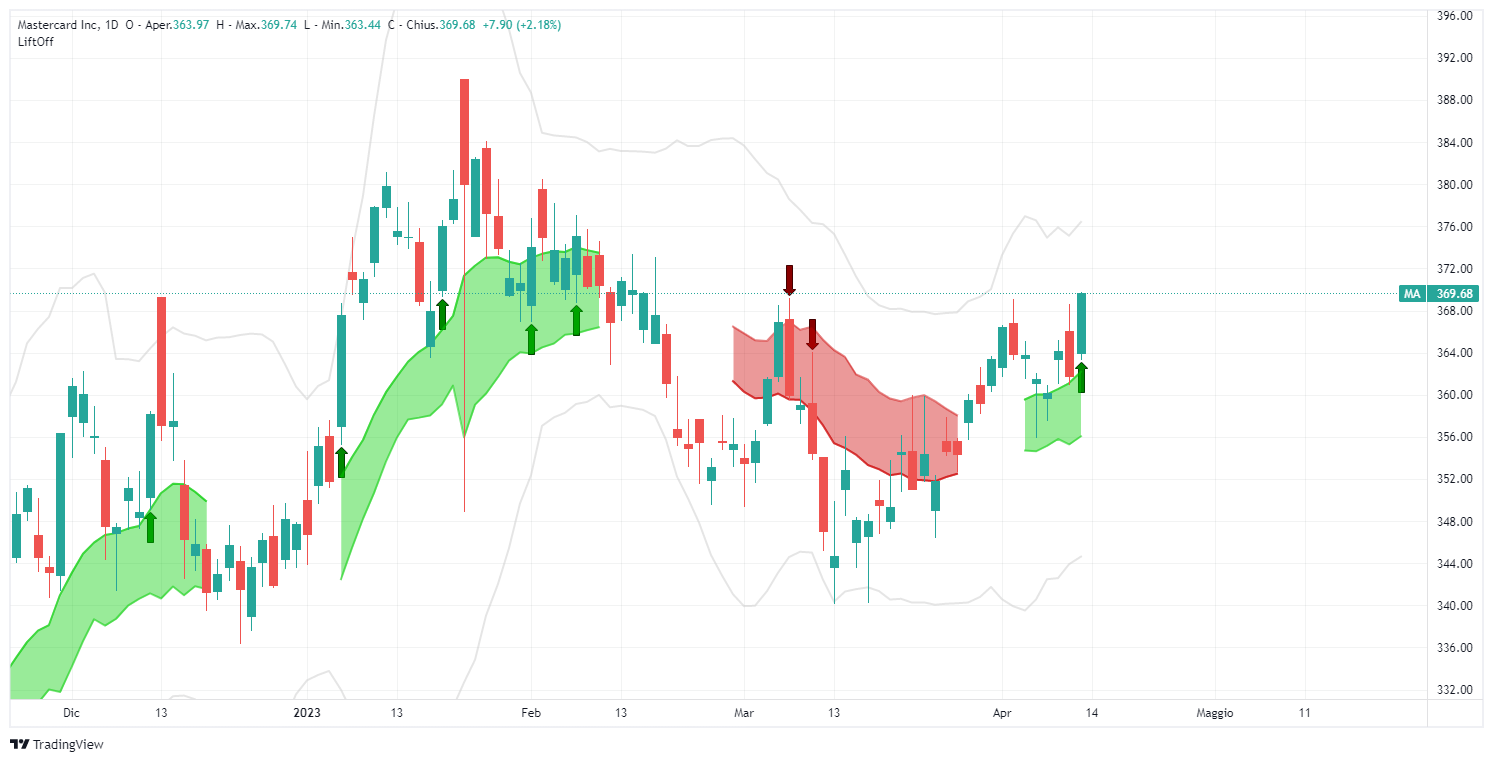 Profile:
Company Profile MA
Mastercard is one of the world's leading financial services companies, specializing in processing payments between banks and institutions that issue its credit, debit and prepaid cards. Founded in 1966 in the United States, Mastercard has a global presence in more than 200 countries and territories, with a network of more than 2 billion cards in circulation. Mastercard offers its customers secure, simple and fast solutions for making online and offline purchases, accessing cash and managing their finances. Mastercard also aims to promote an inclusive digital economy by supporting projects in social innovation, financial inclusion and sustainable development. Mastercard reported 2020 revenue of 12.46 billion euros and net income of 4.97 billion euros.
Next earnings release for Q1 2023: April 27, 2023
Financial Overview: MA's current market capitalization is USD 352,544B. Mastercard Inc's next earnings release date is April 27. The estimate is US$2.71.
Accounts, including revenue, expenses, profit and loss: MA's total revenue for the latest quarter is US$5.82B, up 1.13% from the previous quarter. Net income in Q4 22 is 2.52B USD.
Overview data and accounts source: Tradingview.com
Signal board April 14, 2023
LONG - Mastercard Inc - MA
Input price: USD 369.65 (and any opening price)
Important:
Please note that the signal chosen was identified from those detected by the Lift-Off indicator, which you can view in the "Signals" section of our site. However, we will NOT provide any guidance on how to handle the trade.
We recommend that you handle the trades as shown during our professional courses on using the platform, available at the following link: https://it.largetrader.com/eventi