SIGN UP NOW FOR FREE


Discover Forex, Stocks and Crypto trading signals with 79% to 89% accuracy
If you want to receive trading signals - like these in real time - register on the platform and buy the Pro version of LargeTrader.
Kava-KAVAUSDT trading signal
Altcoin Price Signals and Analysis
Good Morning Traders,
At the close of January 24, a Lift-Off, LONG trading signal is forming on the altcoin Kava (KAVAUSDT)
KAVA against USDT is about to close at USDT 1.1240, marking a +12.63%.
This is the first signal we are getting on this altcoin since the crypto market's rise in recent weeks and it is formed after a small retracement near the Lift-Off band, with volatility deviations opening up.
It is currently ranked 86th in the classic by capitalization.
Below is Kava's chart with the signal detected by Lift-Off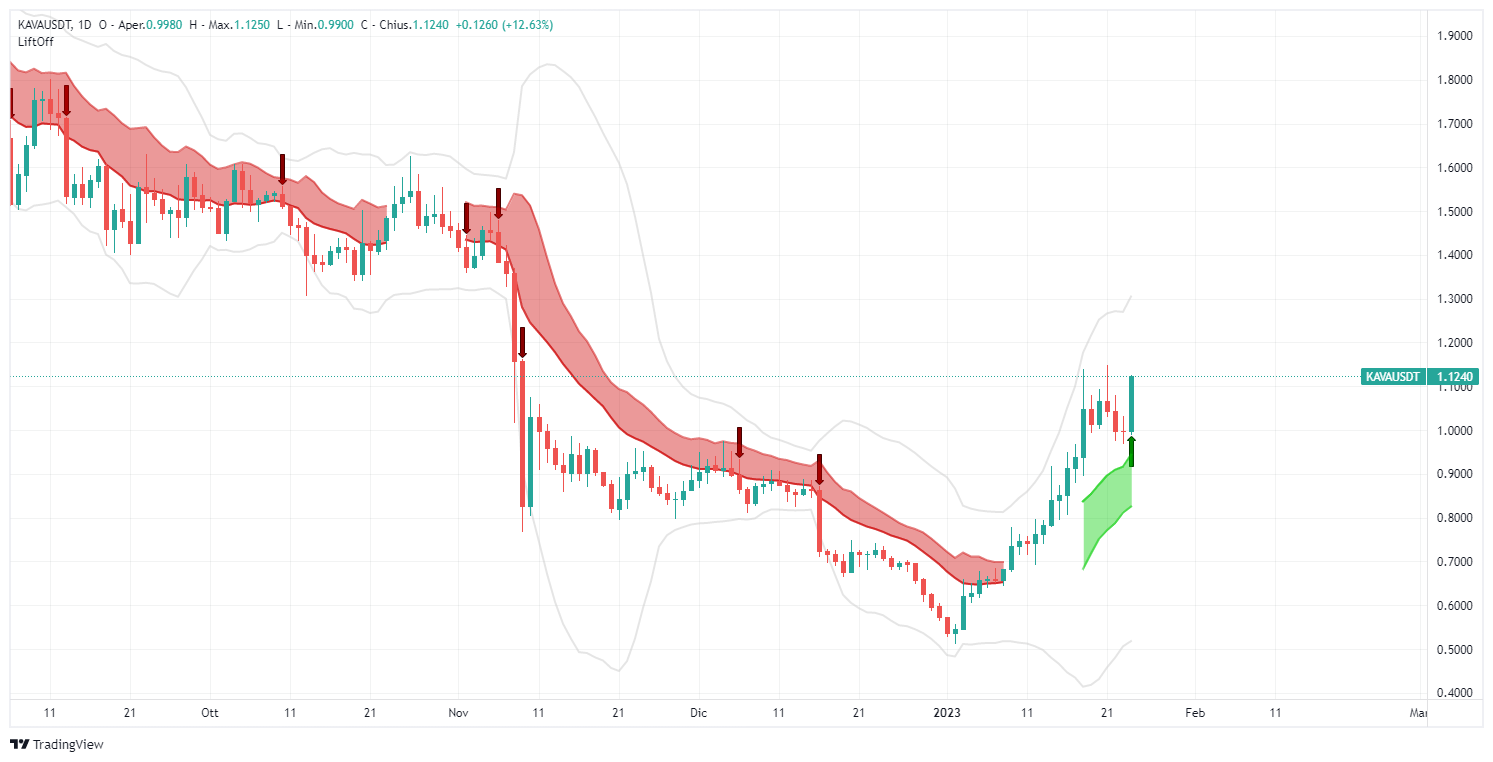 Two words about the Kava project:
[...]Kava is a cross-chain DeFi lending platform that allows users to borrow USDX stablecoin and deposit a variety of cryptocurrencies to start earning a return.
The Kava DeFi hub operates as a decentralized bank for digital assets, giving users access to a range of decentralized financial services, including its native USD-pegged USDX stablecoin, as well as synthetics and derivatives. Through Kava, users can borrow USDX tokens by depositing collateral, leveraging their exposure to crypto assets.
Built on the Cosmos blockchain, Kava uses a collateralized debt position (CDP) system to ensure that stablecoin loans are always sufficiently secured. If a borrower fails to maintain its collateral above a required threshold, the Kava liquidator module will seize the collateral from failed CDPs and send it to the auction module for sale.
In addition to Kava's USDX stablecoin, Kava's blockchain also includes the native KAVA token. It is a utility token used to vote on governance proposals and also serves as a reserve currency for when the system is guaranteed less.[....]
Source: coinmarketcap.com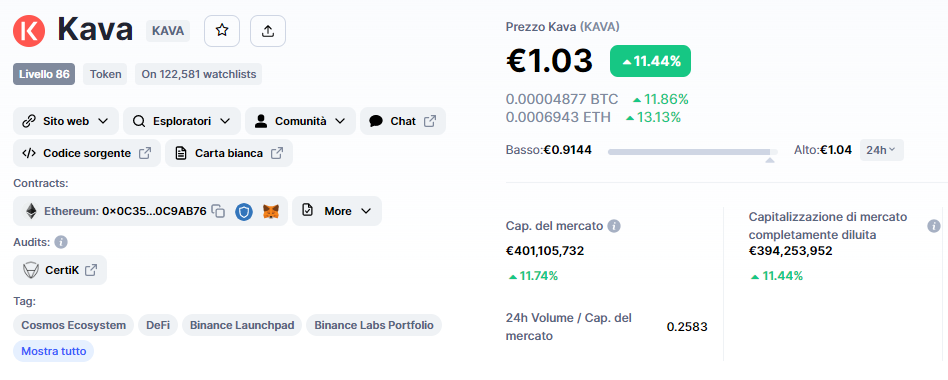 Signal board of January 24, 2023
LONG - KAVA- KAVAUSDT
Input price: 1.1240 USDT (current price or any price if not too far away)
Important:
Please note that the chosen signal has been identified from those detected by the Lift-Off indicator, which you can view in the "Signals" section of our website. However, we will NOT provide any guidance on how to handle the trade.
We recommend that you handle the trades as shown during our professional courses on using the platform, available at the following link: https://it.largetrader.com/event