SIGN UP NOW FOR FREE


Discover Forex, Stocks and Crypto trading signals with 79% to 89% accuracy
If you want to receive trading signals - like these in real time - register on the platform and buy the Pro version of LargeTrader.
Injective trading signal - INJ
Altcoin Price Signals and Analysis
Good Evening Traders,
almost at the close of Feb. 15, a Lift-Off, LONG trading signal is forming on the altcoin Injective (INJUSDT)
INJ against USDT at the moment stands at USDT 3.92, marking a +12.42%.
Traditional markets and the economy are still strong, this, after the downturns of the past few sessions, has brought back the risk appetite in the markets, leading BTC to make a very good performance and thus the whole crypto market recovers, making very good performance.
It is currently ranked 133rd in the classic by capitalization.
Below Injective's chart with the signal detected by Lift-Off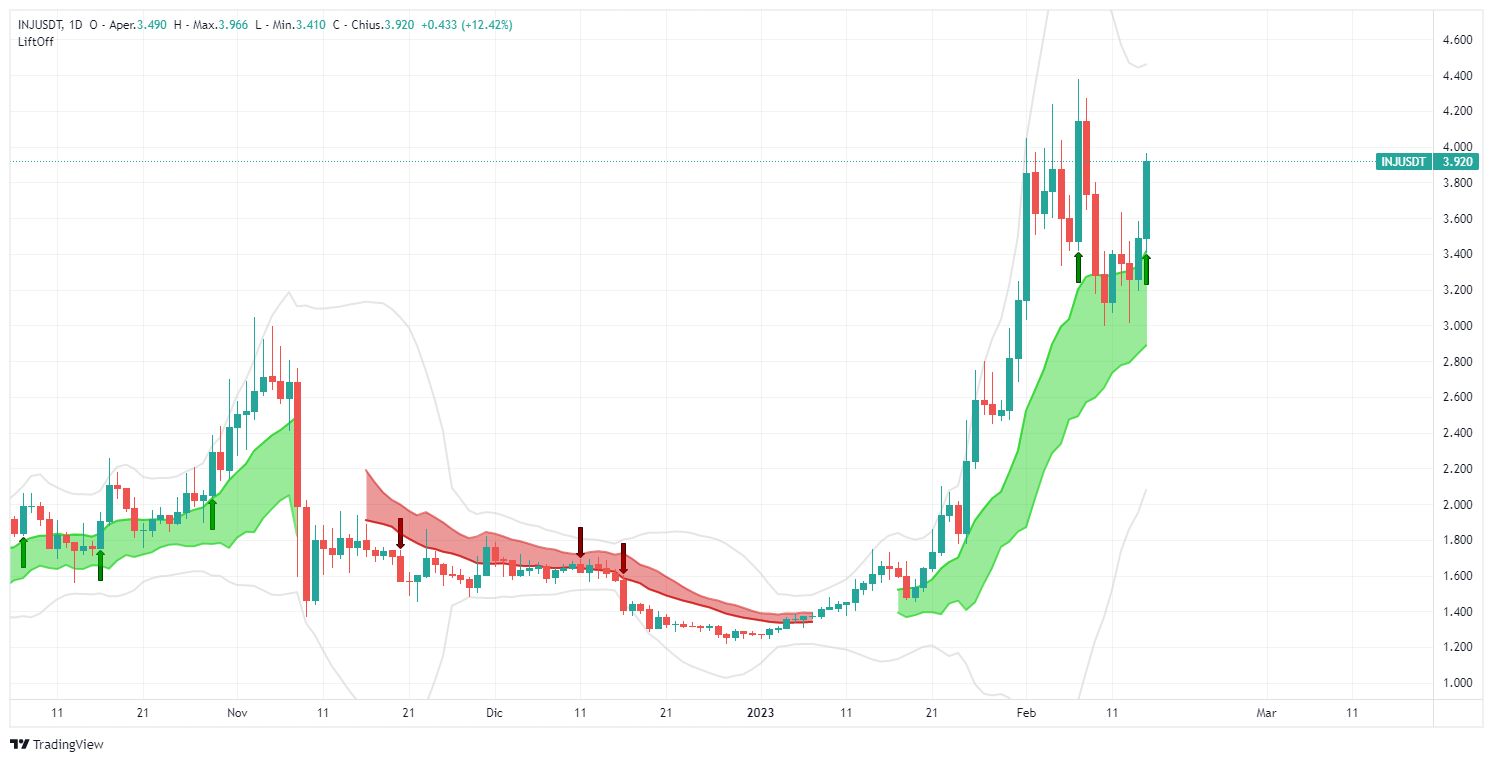 Two words about the Injective project:
[...]The Injective Protocol project is a revolutionary idea that aims to make currency exchanges fully decentralized, publicly managed networks. This means that the exchange is managed exclusively by people who own INJ tokens. There is no centralized governing body to exercise control over the development of the project. The Injective Protocol project was officially launched through a public offering in 2020 and has been supported by industry participants such as Binance, Pantera, and Hashed.
The Injective Chain is the blockchain foundation of the project. It hosts a fully decentralized order book and uses elements from the Ethereum virtual machine (EVM). The platform also incorporates a two-way token link, connecting it to the Ethereum ecosystem..[....]
Source: coinmarketcap.com

Signal board of Feb. 16, 2023
LONG - Injective- INJUSDT
Input price: 3.92 USDT (current price or any price if not too far away)
Important:
Please note that the chosen signal has been identified from those detected by the Lift-Off indicator, which you can view in the "Signals" section of our website. However, we will NOT provide any guidance on how to handle the trade.
We recommend that you handle the trades as shown during our professional courses on using the platform, available at the following link: https://it.largetrader.com/eventi