SIGN UP NOW FOR FREE


Discover Forex, Stocks and Crypto trading signals with 79% to 89% accuracy
If you want to receive trading signals - like these in real time - register on the platform and buy the Pro version of LargeTrader.
Horizen trading signal - ZENUSDT
Altcoin Price Signals and Analysis
Good Morning Traders,
At the close of the Feb. 20 candle, a Lift-Off trading signal was confirmed, LONG on the altcoin Horizen (ZENUSDT)
Horizen against USDT currently stands at USDT 14.27, and yesterday it marked a +11.25%.
It is currently ranked 173rd in the classic by capitalization.
Below is the chart of Horizen with the signal detected by Lift-Off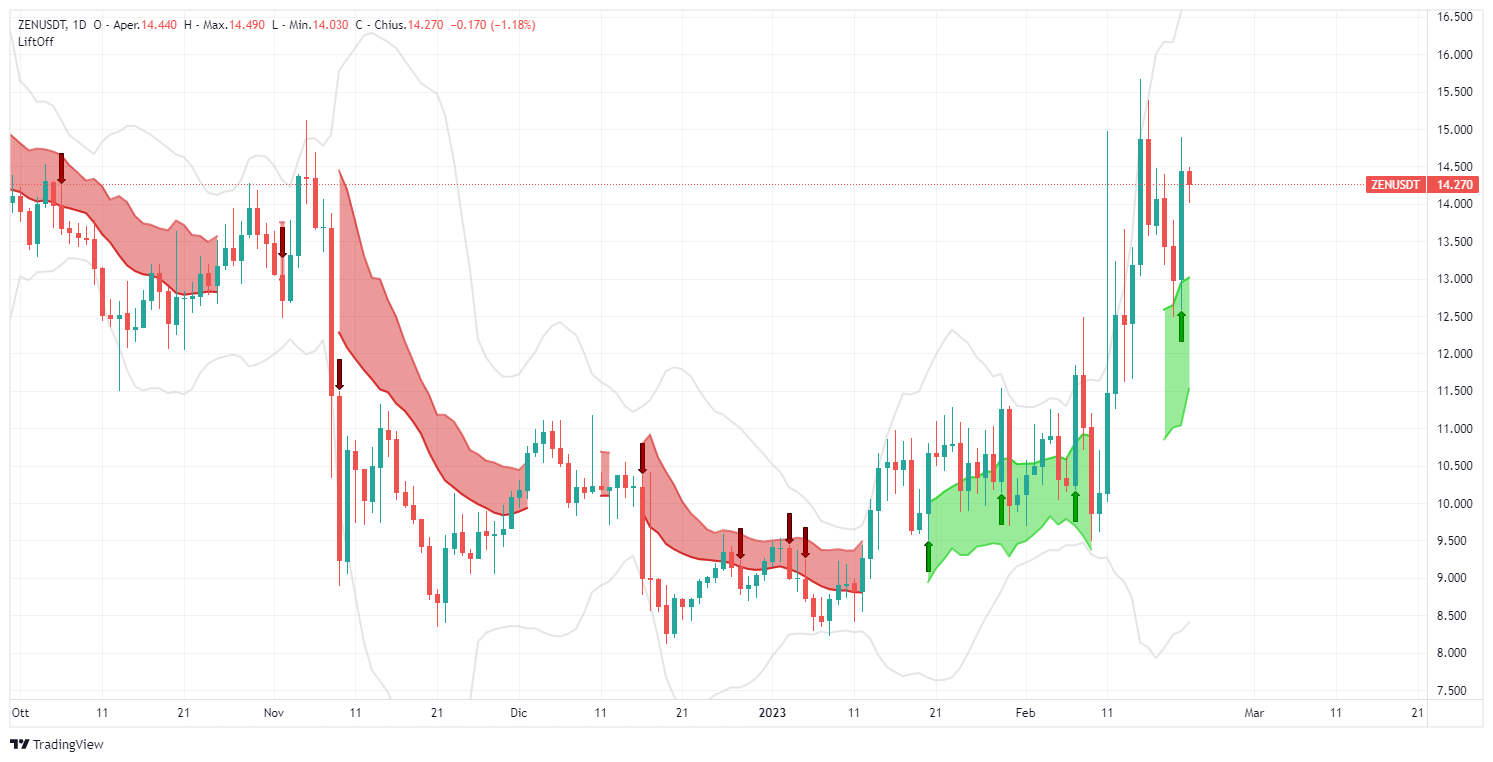 Two words about the Horizen project:
[...]Horizen is an interoperable blockchain system supported by a decentralized node infrastructure. Its sidechain platform focuses on scalable data privacy and, as such, allows companies and developers to create private or public blockchains using the unique sidechain technology known as Zendoo.
Horizen was launched in May 2017 and strives to ensure data integrity and privacy through the activation of real-world use cases. Horizen claims to be fully decentralized, fully customizable with privacy features, and supports the low costs associated with building blockchains with configurable revenue models and an unlimited number of tokens and digital assets.[...]
Source: coinmarketcap.com

Signal board of February 21, 2023
SHORT- HORIZEN - ZENUSDT
Input price: 14.27 USDT (or any price if not too far away even lower)
Important:
We would like to remind you that the signal you choose was identified from those detected by the Lift-Off indicator, which you can view in the "Signals" section of our website. However, we will NOT provide any guidance on how to handle the trade.
We recommend that you handle the trades as shown during our professional courses on using the platform, available at the following link: https://it.largetrader.com/eventi