SIGN UP NOW FOR FREE


Discover Forex, Stocks and Crypto trading signals with 79% to 89% accuracy
If you want to receive trading signals - like these in real time - register on the platform and buy the Pro version of LargeTrader.
FormFactor Inc - FORM trading signal
U.S. stock price signals and analysis
Good morning Traders,
With the close of January 23, Lift-Off confirms a LONG trading signal on the U.S. stock FormFactor Inc (Ticker: FORM) listed on the NASDAQ and part of the RUSSELL 2000 Index (RUT)
The stock closed at USD 27.93 per share, marking +8.17%.
The company just gave an operational signal after the green band turned on, a breakout of the December 13 period high occurred, accompanied by rising lows and a price closing near the high before the October Gap Down.
This combination of factors makes the signal particularly good for speculative entry on this small cap. Indeed, the market seems to be showing a positive trend for FORM, which represents an excellent speculative opportunity.
Below chart of FormFactor Inc - FORM - with the signal detected by Lift-Off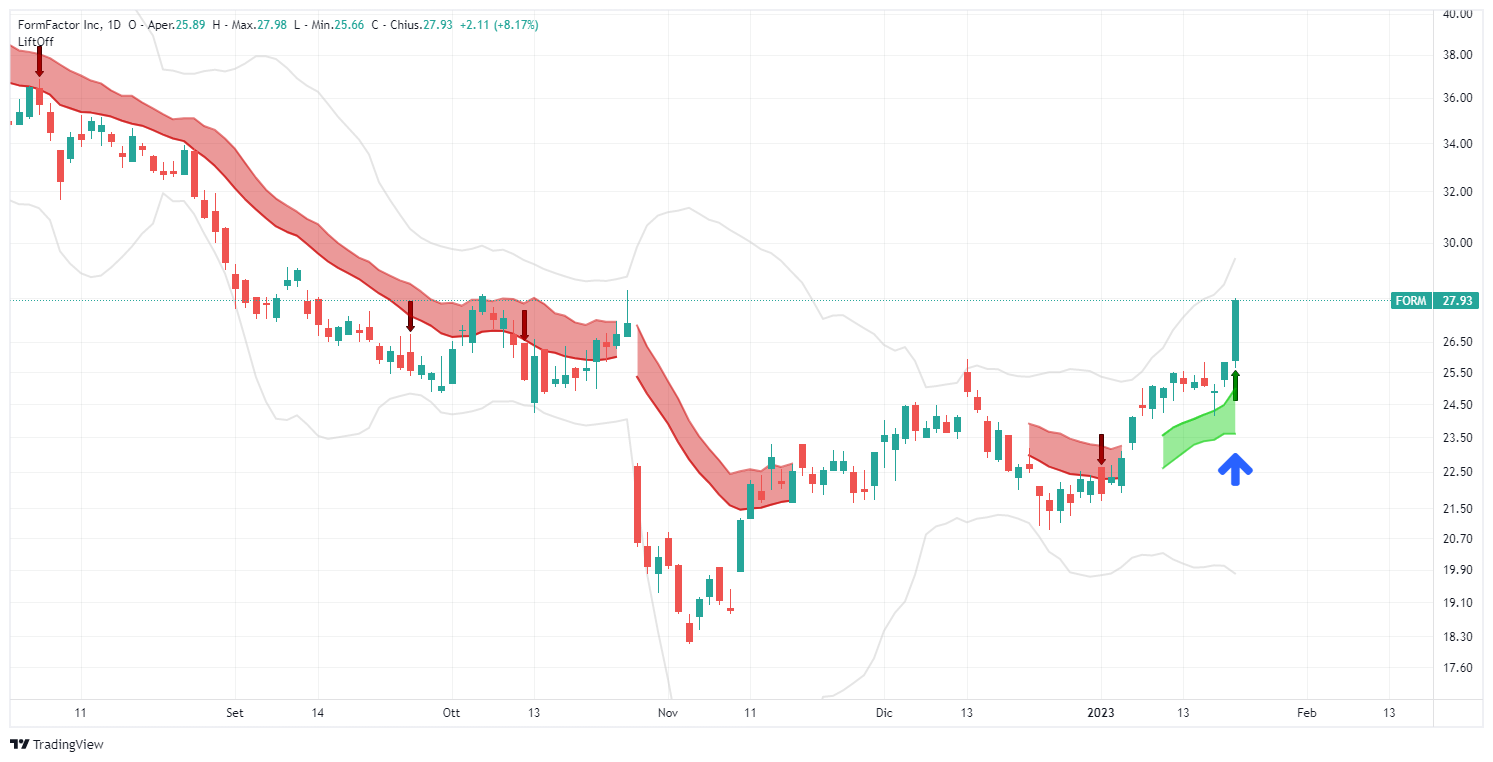 The company is active in the field of "Electronic Technology" specifically in the "Semiconductor Industry"
Profile
FormFactor, Inc. is a publicly traded company that provides advanced semiconductor test solutions for customers in the semiconductor industry. The company was founded in 1993 and is headquartered in Livermore, California. FormFactor focuses on the design, development and manufacture of test pins, characterization probers and high-performance semiconductor test solutions. The company primarily serves customers in the semiconductor industry, including chip manufacturers, device manufacturers and semiconductor test service providers. FormFactor has a market capitalization of approximately $1.5 billion and has a global presence with offices in North America, Europe, and Asia.
Next earnings announcement for Q4 2022:February 8, 2023
Q3 2022 Results
EPS: Reported 0.24 / Expected 0.21 / Previous 0.46
Earnings: Reported 180.87M/ Forecast 183.03M/ Previous 203.91M
Financial Overview: FORM's current market capitalization amounts to 1.989B USD. The next earnings release date for FormFactor, Inc is Feb. 8. The estimate is $0.06 USD.
Accounts, including revenue, expenses, profit and loss: FORM's total revenue for the latest quarter is $180.87M USD, down 11.30% from the previous quarter. Net income in Q3 22 is 4.35M USD.
Overview data and accounts source: Tradingview.com
Signal board January 24, 2023
LONG - FormFactor Inc - FORM
Input price: USD 27.93 (and any opening price, avoid too large GAPs)
Important:
We would like to remind you that the signal you choose has been identified from those detected by the Lift-Off indicator, which you can view in the "Signals" section of our website. However, we will NOT provide any guidance on how to handle the trade.
We recommend that you handle the trades as shown during our professional courses on using the platform, available at the following link: https://it.largetrader.com/eventi