SIGN UP NOW FOR FREE


Discover Forex, Stocks and Crypto trading signals with 79% to 89% accuracy
If you want to receive trading signals - like these in real time - register on the platform and buy the Pro version of LargeTrader.
Euro/American dollar trading signal - EURUSD
Forex market price signals and analysis
Good morning Traders,
With the close of 2March, Lift-Off confirms a SHORT trading signal on EURUSD
After a very bullish January for the Euro and a February practically sideways, the red Lift-Off band has been lit up for a few days now, which then identifies a bearish momentum, coinciding with a recovery of the dollar and a weakening of stock exchanges.
Yesterday on EURUSD comes a bearish signal before the Non Farm Payrolls news that could bring some volatility that has now been missing for over 1 month on the instrument, in fact if we look at the volatility deviations yes (gray lines) they are very close.
So, Given the NFP news today at 2:30 pm, one can decide not to make the trade, reduce the risk or use a wider stop so as to absorb the possible increase in opposite volatility and then see the trade go into profit. With this trade we try with the news to ride the volatility that might come

Below chart of EURUSD - with the signal detected by Lift-Off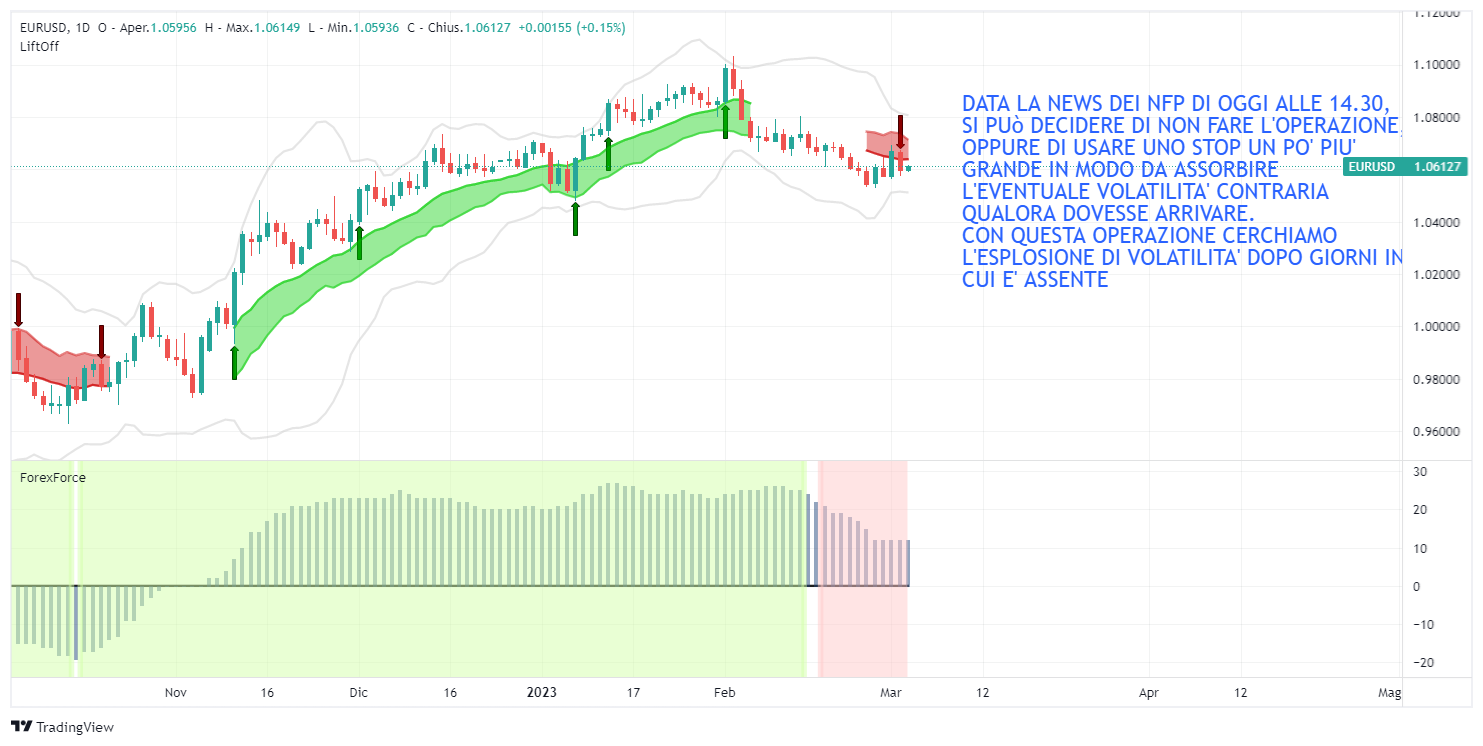 Signal Chart of March 03, 2023
SHORT - EURUSD
Input price: 1.06127 (current market price and valid any price that is not too far away)
Important:
Please note that the chosen signal has been identified from those detected by the Lift-Off indicator, which you can view in the "Signals" section of our website. However, we will NOT provide any guidance on how to handle the trade.
We recommend that you handle the trades as shown during our professional courses on using the platform, available at the following link: https://it.largetrader.com/eventi