SIGN UP NOW FOR FREE


Discover Forex, Stocks and Crypto trading signals with 79% to 89% accuracy
If you want to receive trading signals - like these in real time - register on the platform and buy the Pro version of LargeTrader.
Dash trading signal - DASHUSDT
Altcoin Price Signals and Analysis
Good Morning Traders,
the close of Feb. 11, confirms a Lift-Off trading signal, LONG on the altcoin Dash (DASHUSDT)
DASH against USDT closed at USDT 61.97, marking a +7.21%.
It is currently ranked 65th in the classic by capitalization.
I waited to see the altcoin's behavior over the weekend to confirm the signal, which restarts from the Lift-Off band after last week's retracement.
Beware of the risk, as BTC has also suffered a descent in the past trading sessions, which at the moment looks like a retracement of the very broad move that started with 2023, but if the U.S. indices also continue to fall it could drag cryptos down as well.
Below Dash chart with the signal detected by Lift-Off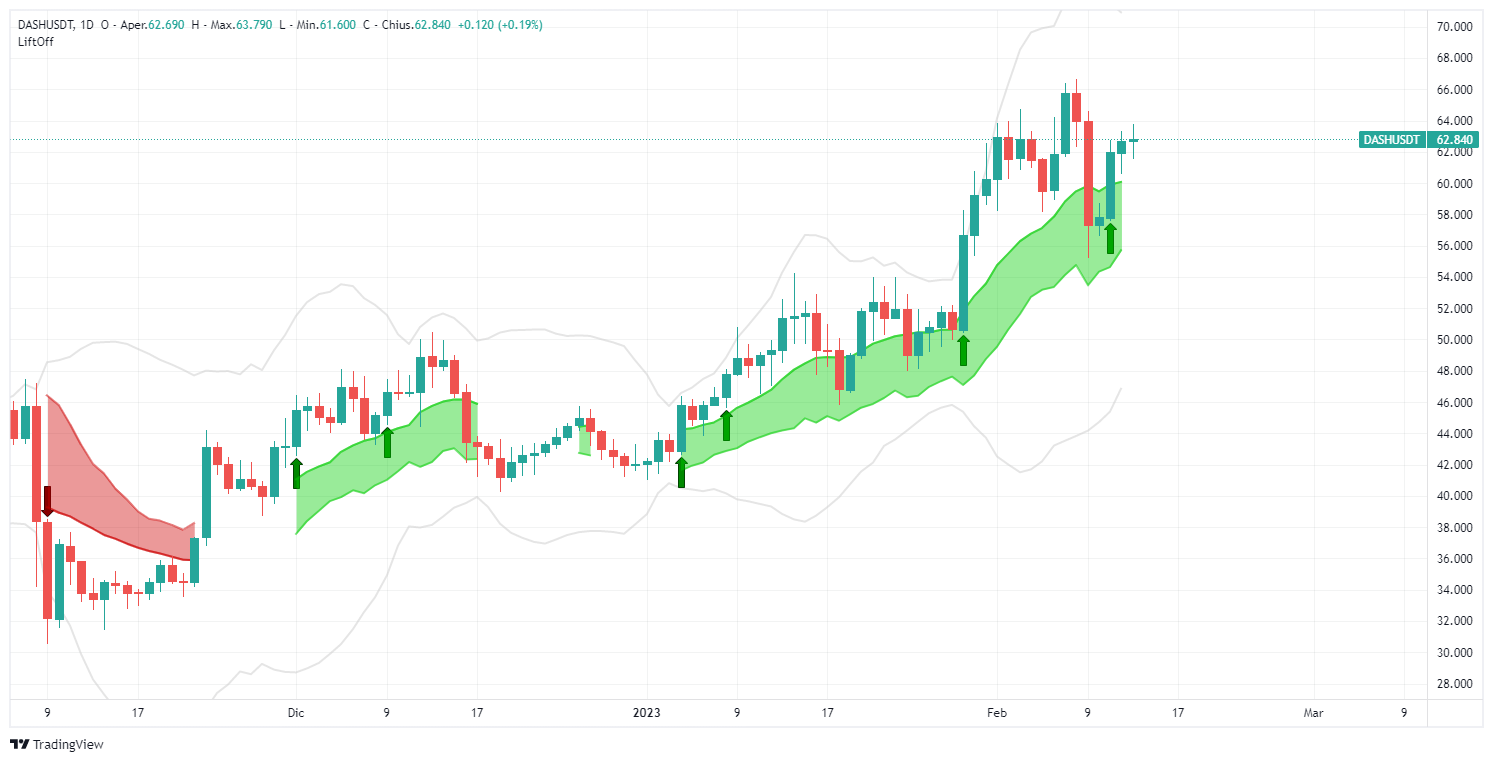 Two words about the Horizen project:
[...]Dash is an open source blockchain and cryptocurrency focused on providing a fast and inexpensive global payments network that is decentralized in nature. According to the project's white paper, Dash seeks to improve upon Bitcoin (BTC) by providing greater privacy and faster transactions.
Dash, whose name is derived from "digital cash," was launched in January 2014 as a fork of Litecoin (LTC). Since it has been live, Dash has grown to include features such as a two-tiered network with incentivized nodes, including "masternodes" and decentralized project governance; InstantSend, which enables instantly settled payments; ChainLocks, which makes the Dash blockchain instantly immutable; and PrivateSend, which offers optional additional privacy for transactions.[...]
Source: coinmarketcap.com

Signal board of February 13, 2023
LONG - DASH - DASHUSDT
Input price: 62.84 USDT (or any price if not too far away)
Important:
Please note that the signal chosen was identified from those detected by the Lift-Off indicator, which you can view in the "Signals" section of our website. However, we will NOT provide any guidance on how to handle the trade.
We recommend that you handle the trades as shown during our professional courses on using the platform, available at the following link: https://it.largetrader.com/eventi