SIGN UP NOW FOR FREE


Discover Forex, Stocks and Crypto trading signals with 79% to 89% accuracy
If you want to receive trading signals - like these in real time - register on the platform and buy the Pro version of LargeTrader.
Chiliz trading signal - CHZ
Altcoin Price Signals and Analysis
Good Morning Traders,
With the close of Feb. 7, a Lift-Off, LONG trading signal was formed on the altcoin Chiliz (CHZUSDT)
CHZ against USDT closed at USDT 0.1616, marking a +17.78%.
With the stock market and Bitcoin returning to a positive session after Powell's words last night, signals are also confirmed on cryptos that may try a new stretch.
It is currently ranked 52nd in the classic by capitalization.
Below Chiliz chart with signal detected by Lift-Off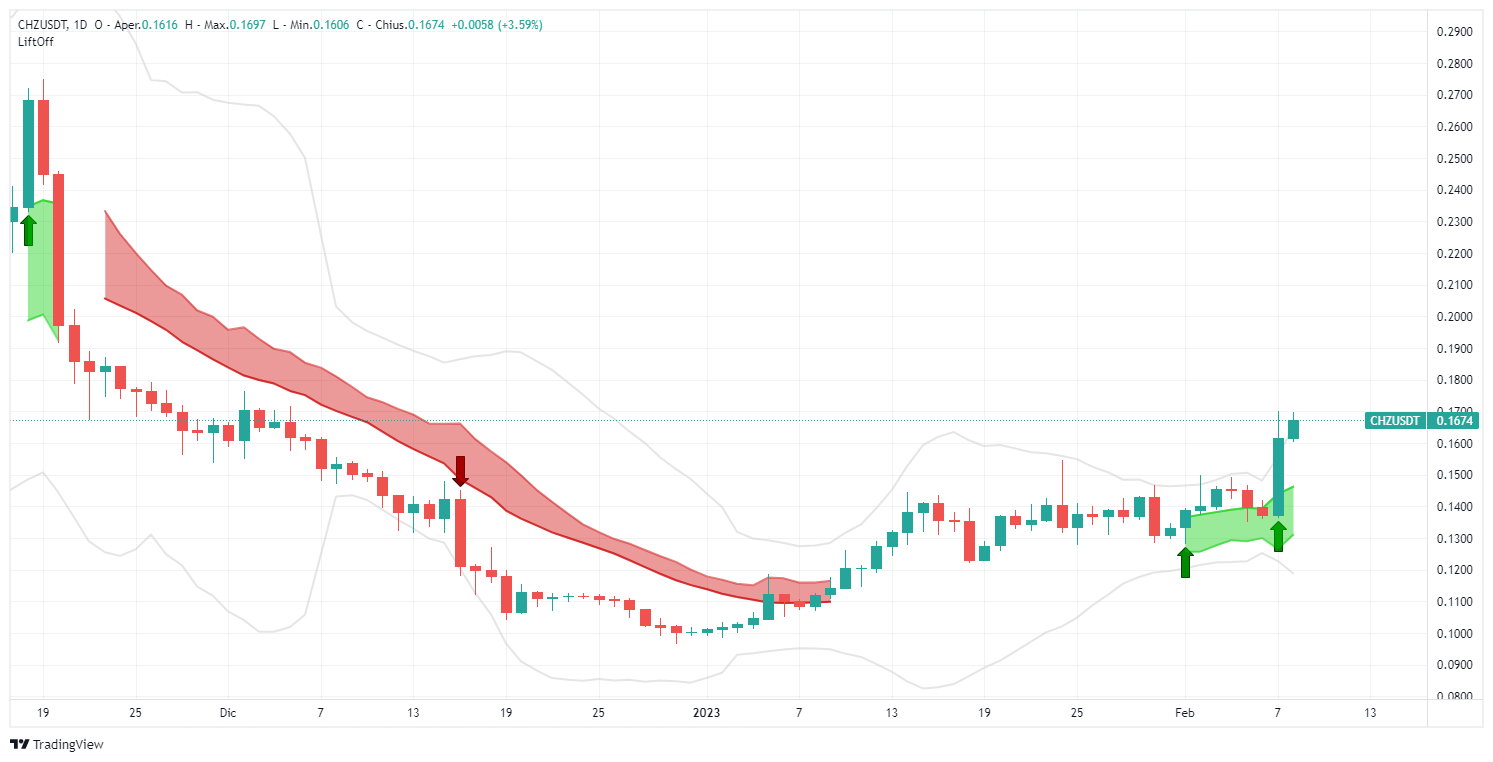 Two words about the Chiliz project:
[...]Chiliz (CHZ) is the leading digital currency for sports and entertainment, powering the world's first blockchain-based Socios.com fan interaction and rewards platform. Fans can buy and exchange Fan Tokens and have the ability to participate in, influence, and vote on club-centric polls and studies. Founded in Malta in 2018, the company's vision is to bridge the gap between the active and passive fan by providing millions of sports fanatics with a Fan Token that acts as a tokenized share of influence.
As an exclusive currency on the platform, fans use CHZ to purchase these branded Fan Tokens, which give users influential decision-making power by allowing them to vote on polls published by our partners within the Socios app. The property also offers fans access to exclusive rewards, amazing experiences& as well as gamification, social interaction and ranking features with several new features to be launched through 2021 and beyond.[....]
Source: coinmarketcap.com

Signal board of February 8, 2023
LONG - Chiliz - CHZUSDT
Input price: 0.1674 USDT (current price or any price if not too far away)
Important:
Please note that the chosen signal has been identified from those detected by the Lift-Off indicator, which you can view in the "Signals" section of our website. However, we will NOT provide any guidance on how to handle the trade.
We recommend that you handle the trades as shown during our professional courses on using the platform, available at the following link: https://it.largetrader.com/eventi