SIGN UP NOW FOR FREE


Discover Forex, Stocks and Crypto trading signals with 79% to 89% accuracy
If you want to receive trading signals - like these in real time - register on the platform and buy the Pro version of LargeTrader.
Caterpillar Inc trading signal - CAT
U.S. stock price signals and analysis
Good morning Traders,
With the close of January 24, Lift-Off confirms a LONG trading signal on the U.S. stock Caterpillar Inc (Ticker: CAT) listed on the NYSE and part of the S&P500 (SPX)
The stock closed at USD 257.60 per share, marking a +1.94%.
Caterpillar Inc, is currently at all-time highs. Due to the recent market downturns, particularly in the technology sector, I decided to wait until the market reopens to assess the performance of Caterpillar's stock.
The industry sector could benefit from the current "flight to quality," i.e., investing in stocks that are considered more stable and safer than those in the technology sector after the positive sequence put up in recent weeks. Therefore, there could be further upside for Caterpillar's stock.
However, it is important to keep an eye on the earnings release scheduled for Jan. 30, as these could significantly affect the stock price.
Below chart of Caterpillar Inc - CAT - with the signal detected by Lift-Off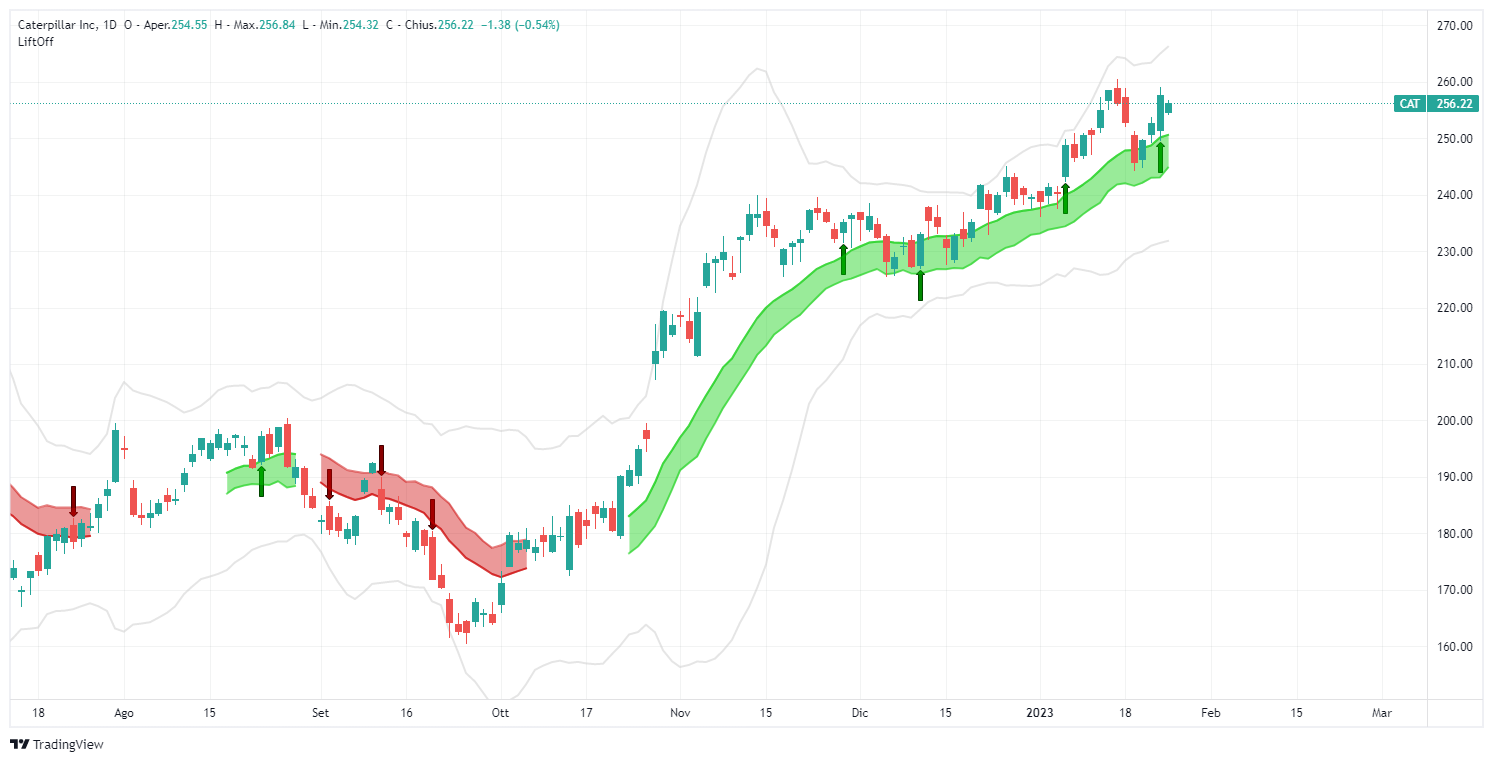 The company is active in the "Manufacturing Supply Chain" sector particularly in the "Agricultural Machinery/Motor Vehicles Industry"
Profile
Caterpillar Inc. is a leading global manufacturer of heavy machinery and equipment for construction and industry. The company was founded in 1925 and is headquartered in Deerfield, Illinois. Caterpillar manufactures a wide range of products, including excavators, bulldozers, loaders, road construction equipment, generators, engines, and turbines. The company primarily serves customers in the construction, infrastructure, and mining industries, as well as customers in the energy and transportation sectors. Caterpillar has a market capitalization of about $60 billion and has a global presence with locations in more than 180 countries. The company is known for its focus on quality and safety, as well as its ability to provide innovative solutions for its customers.
Next earnings announcement for Q4 2022:February 28, 2023
Q3 2022 Results
EPS: Reported 3.95 / Expected 3.16 / Previous 3.18
Earnings: Reported 14.99B/ Expected 14.36B/ Previous 14.25B
Financial Overview: CAT's current market capitalization amounts to 131.507B USD. The company's TTM EPS is 13.85 USD, dividend yield is 1.90% and PE is 18.36. Caterpillar, Inc's next earnings release date is Jan. 31. The estimate is US$4.02.
Accounts, including revenue, expenses, profit and loss: CAT's total revenue for the latest quarter is US$14.99B, up 5.24% from the previous quarter. Net income in Q3 22 is 2.04B USD.
Overview data and accounts source: Tradingview.com
Signal board January 25, 2023
LONG - Caterpillar Inc - CAT
Input price: 256.22 USD (and any price)
Important:
We would like to remind you that the chosen signal was identified from those detected by the Lift-Off indicator, which you can view in the "Signals" section of our website. However, we will NOT provide any guidance on how to handle the trade.
We recommend that you handle the trades as shown during our professional courses on using the platform, available at the following link: https://it.largetrader.com/eventi