SIGN UP NOW FOR FREE


Discover Forex, Stocks and Crypto trading signals with 79% to 89% accuracy
If you want to receive trading signals - like these in real time - register on the platform and buy the Pro version of LargeTrader.
Bitcoin trading signal - BTCUSDT
Altcoin price signals and analysis
Good morning Traders,
Yesterday, April 18, Lift-Off confirms a LONG trading signal on Bitcoin (BTCUSDT).
The current price of BTCUSDT is 30.230.00 USDT, registering +3.23% yesterday
Bitcoin currently ranks No. 1 by capitalization.
At the moment, Bitcoin is just above $30,000, a very important threshold for its value and a psychological barrier. In recent sessions, the price has stabilized, and yesterday, with a bounce off the Lift-Off band, it provided a signal.
Before breaking through its current highs, the price could undergo another retracement, below the bottom of the Lift-Off band. However, BTC remains the quintessential cryptocurrency, which has performed well since the beginning of the year, and risk appetite and liquidity for this instrument have returned.
Below is the chart of BTCUSDT with the signal detected by Lift-Off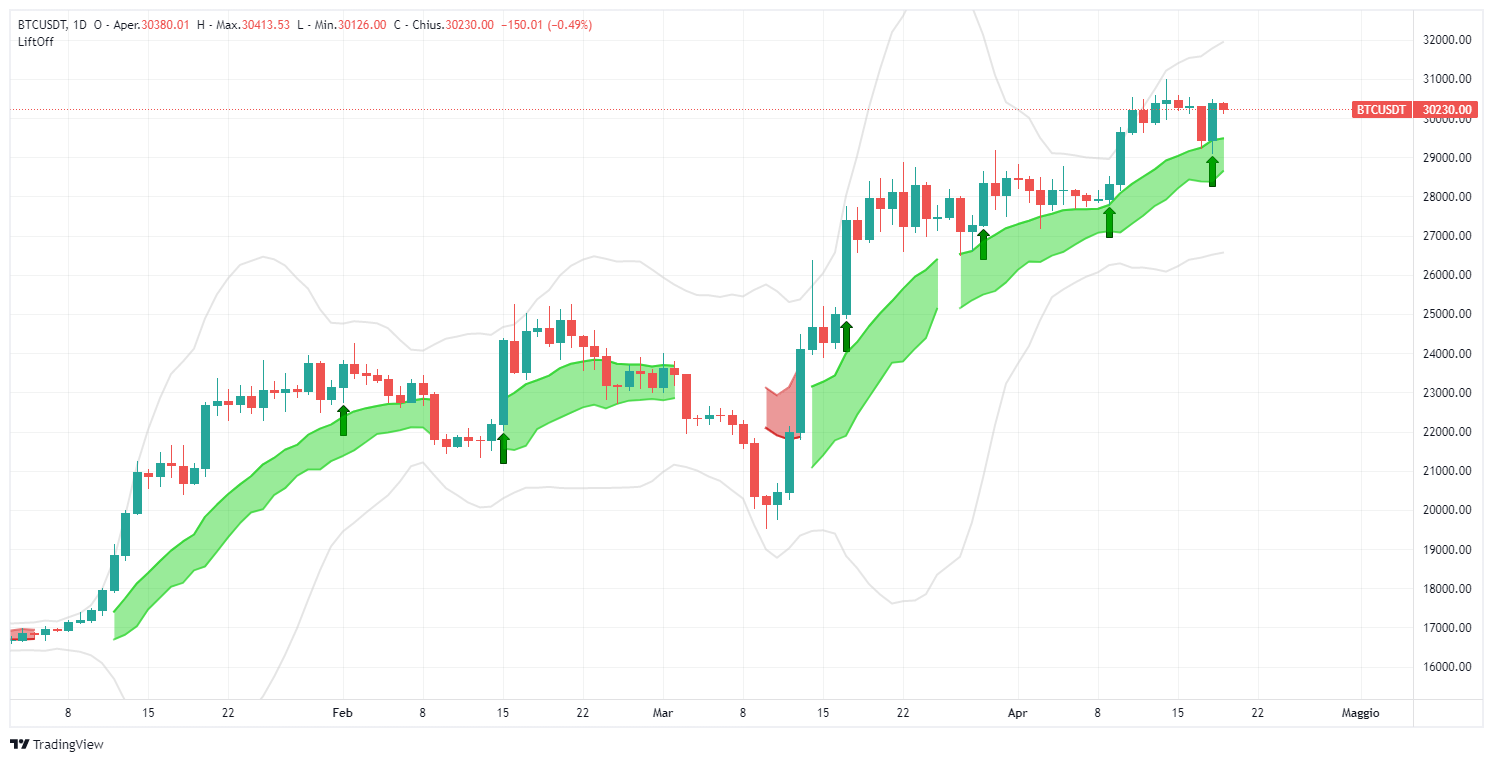 Project
using the pseudonym Satoshi Nakamoto. It was launched shortly thereafter, in January 2009.
Bitcoin is a peer-to-peer online currency, which means that all transactions occur directly equally and independently between network participants, without the need for any intermediary to enable or facilitate them. Bitcoin was created, in Nakamoto's own words, to enable "online payments to be sent directly from one party to another without using a financial institution."
Some similar decentralized electronic currency concepts predate BTC, but Bitcoin holds the distinction of being the first cryptocurrency ever to actually come into use.

Source: coinmarketcap.com
Signal board April 19, 2023
LONG - Bitcoin- BTCUSDT
Input price: 30230 USDT (or any price if not too far away)
Important:
We would like to remind you that the chosen signal was identified from those detected by the Lift-Off indicator, which you can view in the "Signals" section of our website. However, we will NOT provide any guidance on how to handle the trade.
We recommend that you handle the trades as shown during our professional courses on using the platform, available at the following link: https://it.largetrader.com/eventi