SIGN UP NOW FOR FREE


Discover Forex, Stocks and Crypto trading signals with 79% to 89% accuracy
If you want to receive trading signals - like these in real time - register on the platform and buy the Pro version of LargeTrader.
BioXcel Therapeutics Inc - BTAI trading signal.
U.S. stock price signals and analysis
Good morning Traders,
With the close of February 8, Lift-Off confirms a LONG trading signal on the U.S. stock BioXcel Therapeutics Inc (Ticker: BTAI) listed on the NASDAQ and part of the RUSSELL 2000 Index (RUT)
The stock closed at USD 33.17 per share, marking a +8.08%.
Below the chart of BioXcel Therapeutics Inc - QRVO - with the signal detected by Lift-Off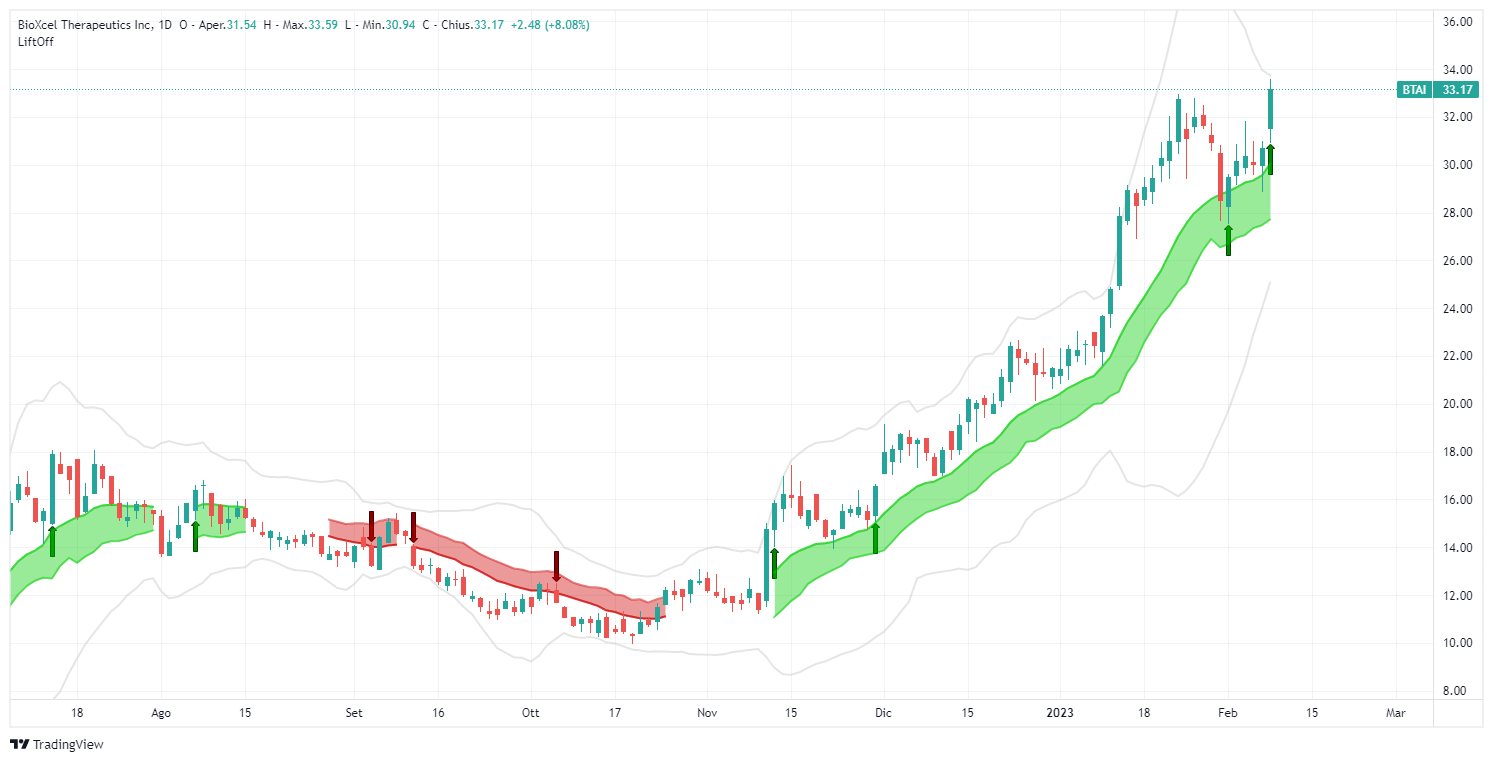 The company is active in the "Health Technology" sector specifically in the "Biotechnology Industry"
Profile
BioXcel Therapeutics Inc is a biotechnology company developing innovative therapies for the treatment of mental and neurological diseases. The company was founded in 2017 and is based in New Haven, Connecticut. BioXcel focuses on using advanced artificial intelligence and genome analysis technologies to identify new treatments and enhance the effectiveness of existing therapies. The company uses a proprietary platform called the BioXcel Neuroscience Platform to identify and develop new therapies. BioXcel is committed to providing innovative and affordable solutions to patients worldwide suffering from mental and neurological disorders. BioXcel Therapeutics' market capitalization is approximately $2 billion.
Next earnings announcement for Q4 2022:March 9, 2023
Q3 2022 earnings
EPS: Reported -1.49 / Expected -1.31 / Previous -1.35
Earnings: Reported 137.00K/ Forecasted 1.00M/ previous 0.00
Financial Overview:BTAI's current market capitalization is USD 860,033M. The next earnings release date for BioXcel Therapeutics, Inc is March 9. The estimate is -1.41 USD.
Accounts, including sales, expenses, profit and loss: -
Overview data source and accounts: Tradingview.com
February 9, 2023
LONG - BioXcel Therapeutics Inc - BTAI
Input price: $33.17 USD (and any price)
Beware this is a small cap, contain risk as its balance sheet data is negative, but right now it is experiencing relative strength that could encourage further upside in the short term.
Important:
We would like to remind you that the signal chosen was identified from those detected by the Lift-Off indicator, which you can view in the "Signals" section of our website. However, we will NOT provide any guidance on how to handle the trade.
We recommend that you handle the trades as shown during our professional courses on using the platform, available at the following link: https://it.largetrader.com/eventi