SIGN UP NOW FOR FREE


Discover Forex, Stocks and Crypto trading signals with 79% to 89% accuracy
If you want to receive trading signals - like these in real time - register on the platform and buy the Pro version of LargeTrader.
Australian Dollar/New Zealand Dollar Trading Signal - AUDNZD
Forex Market Price Signals and Analysis
Good Evening Traders,
nearly on the close of Jan. 25, Lift-Off confirms a LONG trading signal on AUDNZD.
The AUD/NZD cross shows a bullish trend just beginning, with the Lift-Off band still slightly flat. But today the Australian dollar with the news of rising inflation, currently registering an increase of +1.22 percent against the New Zealand dollar
The news
Inflation continues to run in Australia reaching a record high since 1990. In the fourth quarter, the CPI consumer price index released by the Office for National Statistics jumped 7.8 percent, a new high in 32 years. Pushing the inflation rate forward was mainly the surge in prices of food, fuel and new home construction.
Analysts' estimates were for lower price growth of +7.5 percent, while the Australian central bank had estimated +8 percent.
In detail, prices of goods rose 9.5 percent while service costs increased 5.5 percent.
Source
https://finanza.lastampa.en/News/News/2023/01/25/australia-inflation-volume-at-maximum-1990/MjFfMjAyMy0wMS0yNV9UTEI
Below chart of AUDNZD - with signal detected by Lift-Off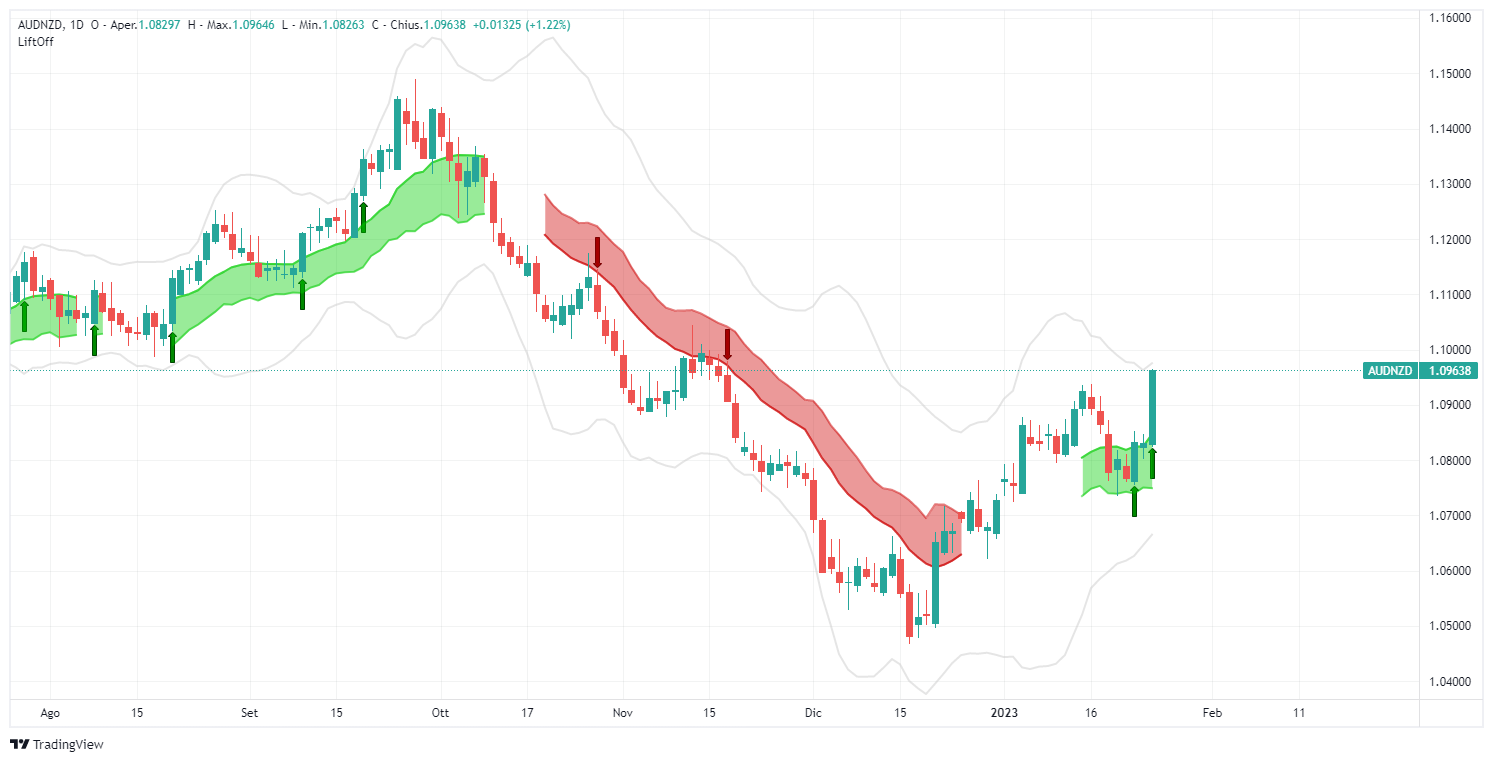 Signal chart of January 26, 2023
LONG - AUDNZD
Input price: 0.9638 (current market price and valid any price that is not too far away)
Important:
Please note that the chosen signal has been identified from those detected by the Lift-Off indicator, which you can view in the "Signals" section of our website. However, we will NOT provide any guidance on how to handle the trade.
We recommend that you handle the trades as shown during our professional courses on using the platform, available at the following link: https://it.largetrader.com/eventi