SIGN UP NOW FOR FREE


Discover Forex, Stocks and Crypto trading signals with 79% to 89% accuracy
If you want to receive trading signals - like these in real time - register on the platform and buy the Pro version of LargeTrader.
Alpha Venture DAO trading signal - ALPHAUSDT
Altcoin price signals and analysis
Good evening Traders,
Yesterday, March 20, Lift-Off confirmed a SHORT trading signal on the Alpha Venture DAO crypto (ALPHAUSDT).
The current price of ALPHAUSDT is USDT 0.1063, and yesterday it closed -7.84%
Alpha Venture DAO is currently ranked 303rd by capitalization.
Below is the chart of ALPHAUSDT with the signal detected by Lift-Off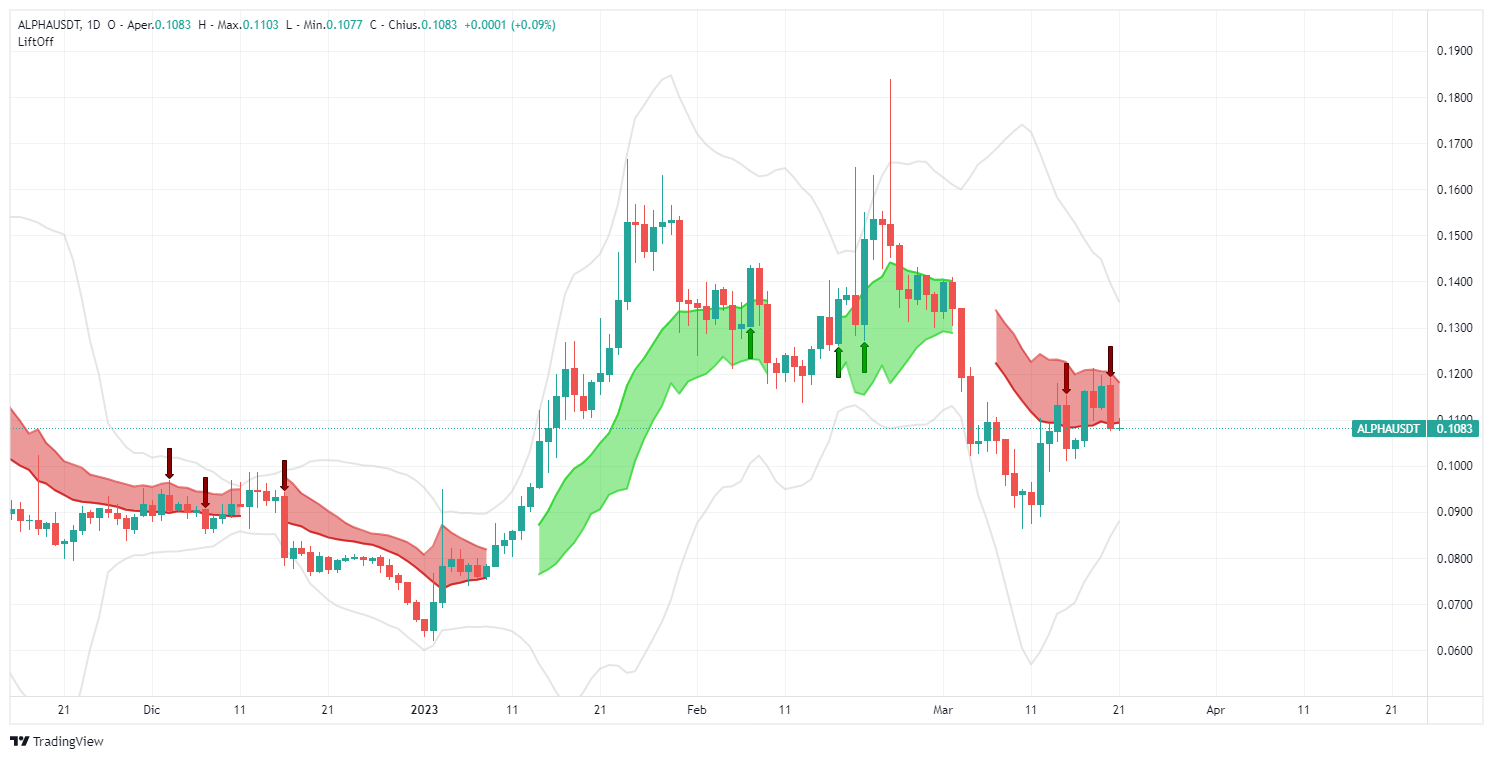 Project
Alpha Finance Lab is a DeFi cross-chain platform that seeks to bring alpha to users across a variety of different blockchains, including Binance Smart Chain (BSC) and Ethereum.
The platform aims to produce an ecosystem of DeFi products that address unmet industry needs while remaining simple to use and access. The first product created by Alpha Finance Lab is Alpha Lending, a decentralized lending protocol with algorithmically adjusted interest rates.
The yield-farming platform Alpha Homora was the second product launched by the platform, while AlphaX-a perpetual swap product without an orderbook-is expected to be launched in 2021.
ALPHA is the platform's original utility token. Token holders can earn a share of network fees by betting on ALPHA tokens to cover any defaulted loans. Other use cases for the token include liquidity mining and voting governance.
Alpha Finance Lab will implement governance through a decentralized autonomous organization (DAO), which will allow ALPHA holders to vote on the specifications of future Alpha products and decide how to interact. This governance procedure is divided into two levels: product-level governance and finance-level governance, giving token holders great control over the future of Alpha.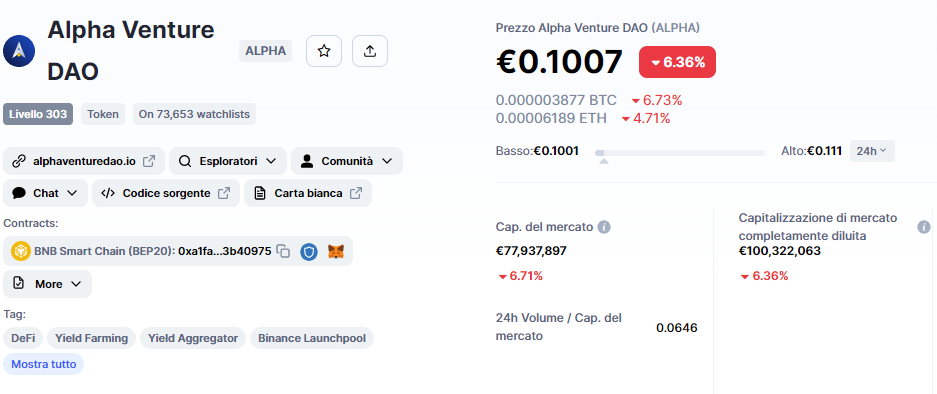 Source: coinmarketcap.com
March 21, 2023
SHORT - Alpha Venture DAO - ALPHAUSDT
Input price: 0.1083 USDT (or any price if not too far away)
WARNING:keep your risk low, markets in this period have sudden and abrupt changes of direction. For this reason, it may be appropriate to consider short-term positions without overly ambitious targets
Important:
We would like to remind you that the signal chosen has been identified from those detected by the Lift-Off indicator, which you can view in the "Signals" section of our website. However, we will NOT provide any guidance on how to handle the trade.
We recommend that you handle the trades as shown during our professional courses on using the platform, available at the following link: https://it.largetrader.com/eventi