SIGN UP NOW FOR FREE


Discover Forex, Stocks and Crypto trading signals with 79% to 89% accuracy
If you want to receive trading signals - like these in real time - register on the platform and buy the Pro version of LargeTrader.
Adobe trading signal - ADBE
U.S. stock trading signals and price analysis
Good morning Traders,
Today, August 26, 9:00 pm, Lift-Off offers a SHORT trading signal on the U.S. stock Adobe Inc. (Ticker:ADBE), which registers a loss of 5.67 percent, following the words of Jerome Powell, Chairman of the Federal Reserves at the Jackson Hole symposium, bringing the price back to $381 per share.
Adobe's price currently is the same as the pre-pandemic high of 2020, which it had made on Feb. 20, 2020 before the collapse due to the COVID phase.
Below the graph of ADOBE (ADBE) with the signal detected by Lift-Off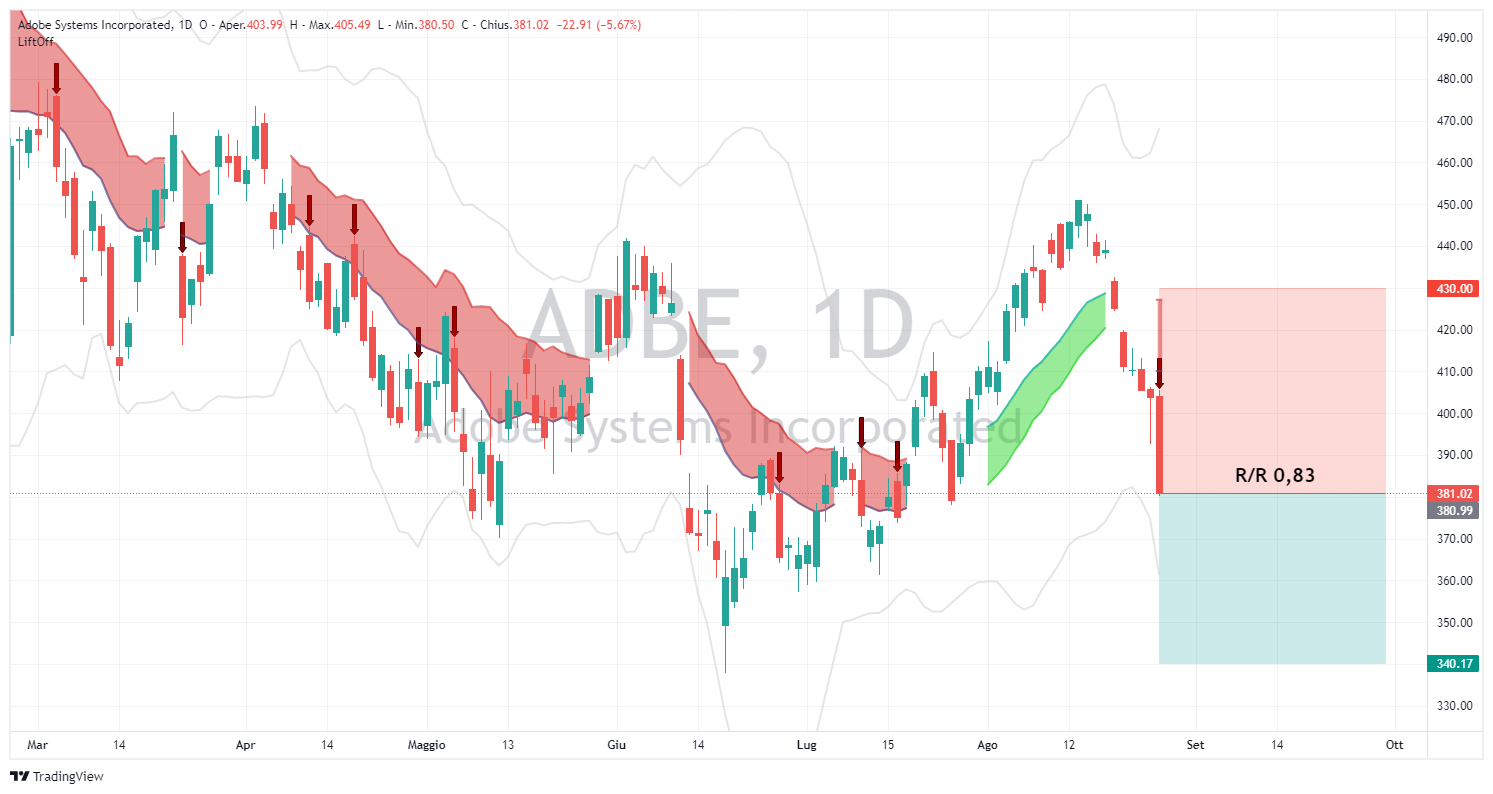 The news that caused the drop:
Gold at one-month low after Powell's words
"Prices of the yellow metal tumbled last week after Fed Chairman Powell's statements made no mention of cautious turns by the central bank. Instead, Powell warned consumers and businesses that they will have to contend with sharp rate hikes until the inflation rate is under control."
Source: investing.com
Some information about Adobe Inc.
Adobe Incorporatedis a software house U.S.-based headquartered in San Jose, in California. It is best known for its video and digital graphics products. [Wikipedia]
Financial Overview: ADBE's current market capitalization is US$178,317B. Adobe Inc's next earnings release date is September 15. The estimate is US$3.34.
Accounts, including revenue, expenses, profit and loss: ADBE's total revenue for the latest quarter is US$4.35B, up 2.52% from the previous quarter. Net income in Q2 22 is 1.18B USD.
Signal Board August 26
SELL ADBE- Adobe Inc. - Nasdaq index
Input price: $381
Stop Loss: $430
Take profit: $340.20
R/R: 0.83