SIGN UP NOW FOR FREE


Discover Forex, Stocks and Crypto trading signals with 79% to 89% accuracy
If you want to receive trading signals - like these in real time - register on the platform and buy the Pro version of LargeTrader.
Aave trading signal - AAVE
Altcoin Price Signals and Analysis
Good Morning Traders,
At the close of January 25, a Lift-Off, LONG trading signal was formed on the altcoin Aave (AAVEUSDT)
AAVE against USDT closed at USDT 85.70, marking a +7.26%.
This is the first signal we are getting on this altcoin after the crypto market's rise in recent weeks and it is formed after a small retracement near the Lift-Off band.
It is currently ranked 41st in the classic by capitalization.
Below chart of Aave with the signal detected by Lift-Off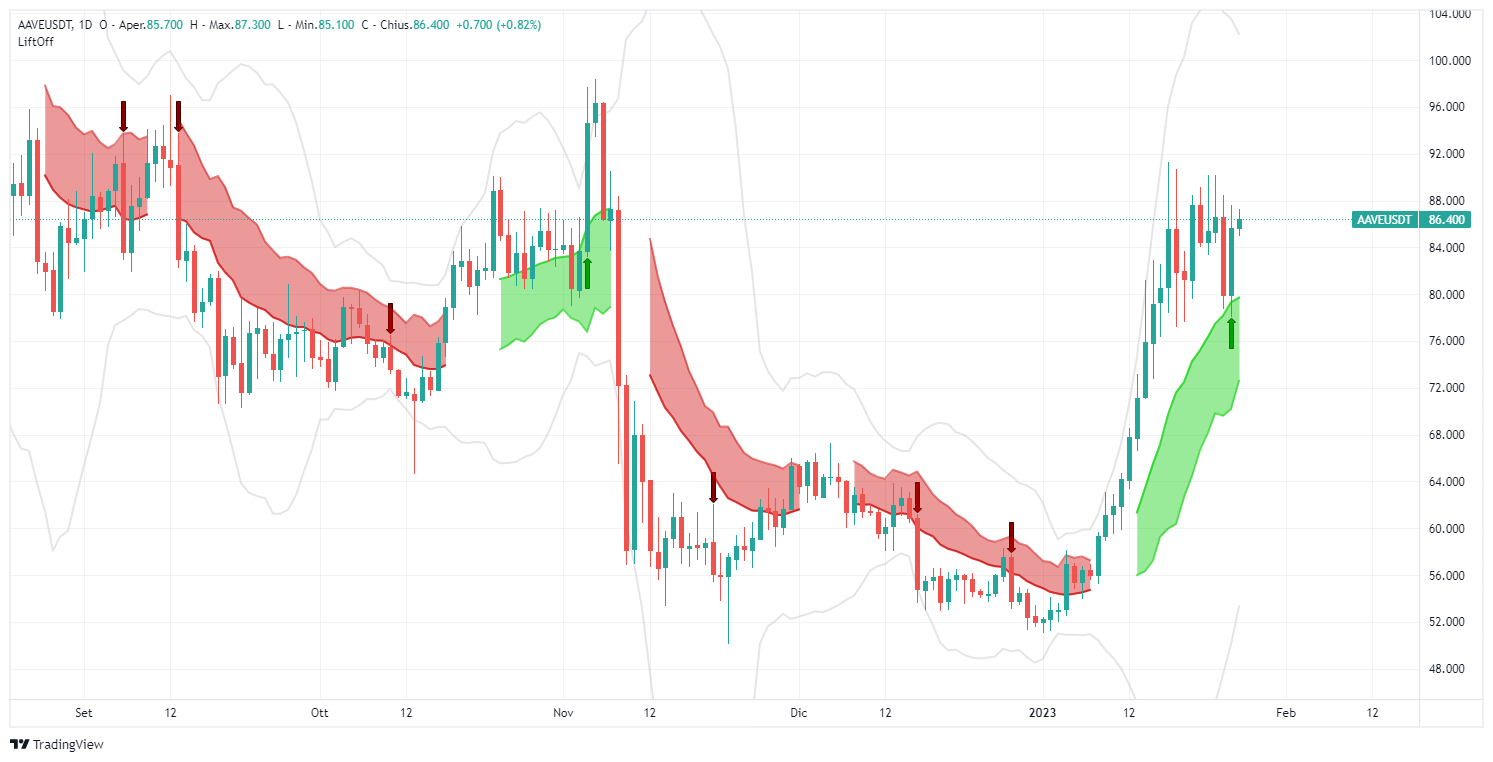 Two words about the Aave project:
[...]Aave is a decentralized financial protocol that allows people to lend and borrow cryptocurrencies.
Lenders earn interest by depositing digital resources into specially created liquidity pools. Borrowers can then use their cryptocurrency as collateral to take out a flash loan using this liquidity.
Aave (which means "ghost" in Finnish) was originally known as ETHLend when it was launched in November 2017, but the rebranding to Aave occurred in September 2018. (This helps explain why the acronym for this token is so different from its name!)
AAVE offers holders discounted rates on the platform and also serves as a governance token-giving owners a say in the future development of the protocol.[....]
Source: coinmarketcap.com

Signal board of January 26, 2023
LONG - AAVE - AAVEUSDT
Input price: 186.40 USDT (current price or any price if not too far away)
Important:
Please note that the signal chosen was identified from those detected by the Lift-Off indicator, which you can view in the "Signals" section of our website. However, we will NOT provide any guidance on how to handle the trade.
We recommend that you handle the trades as shown during our professional courses on using the platform, available at the following link: https://it.largetrader.com/eventi